News
2023: Ex Rangers Grand Patron endorses Peter Obi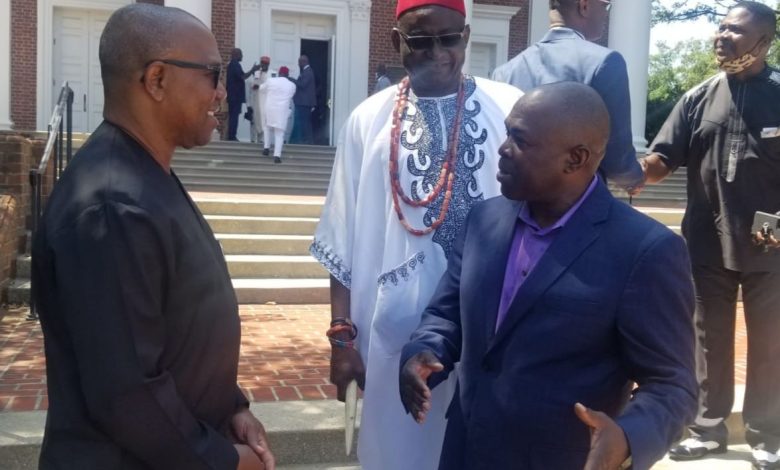 Photo: Ezeomeogo Benson Ejindu (right) discussing with Labour Party's Presidential aspirant, Peter Obi in Maryland, USA during a recent visit.

By George Aluo
United States of America (USA) based grand patron of ex Rangers (Worldwide) Ezeomeogo Benson Ejindu (MVP) has endorsed Peter Obi  for Presidency in 2023.
Ejindu who spoke yesterday ahead of Obi's visit to Charlotte, North Carolina said his decision to endorse Obi has to do with Obi's track record and antecedents.
He noted that Obi as governor of Anambra State made the welfare of former Rangers players a top priority.
"Obi as governor ensured that former Rangers stars were paid on a monthly basis. He carried everybody along and made them not regret playing for the club. With him as president, the era when Nigerian stars are stranded after serving the country would be over. It is a shame that our Dream Team got stranded in Atlanta when they were going to Rio for the Olympics. As a patriotic Nigerian, I had to personally intervene and bailed out Samson Siasia and his boys. We saw how the Falconets slept on bare floor in Turkey last week while coming home from the U-20 Women's World Cup. We should have enough of that come 2023 and I believe the man that can get the job done is Peter Obi."
Ejindu was quick to add that his endorsement of Obi is personal and has nothing to do with Rangers as a team.
"My endorsement of Obi is personal because I am convinced that with him as President Sports in Nigeria will be elevated," Ejindu said.