Politics
2023: Labour Party Reps Candidate, Mathew Nwogu Enjoins Voters to Ignore Intimidation, Threats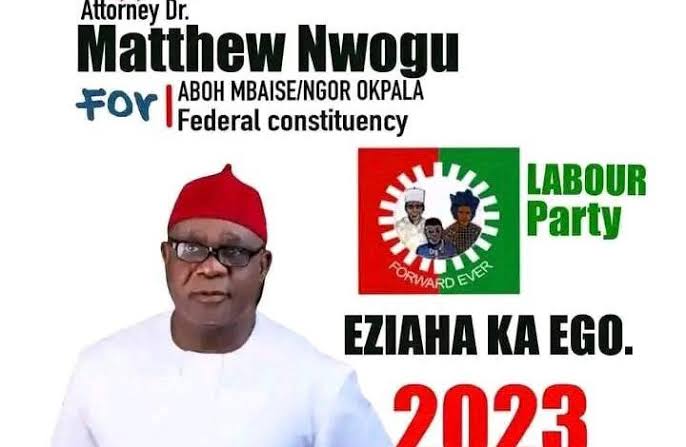 From Athan Agbakwuru, Owerri
With less than two weeks to the presidential and national assembly elections across the country, candidate of the Labour Party, LP, for Aboh Mbaise/Ngor Okpala federal constituency, Attorney Matthew I. Nwogu has urged the supporters and members of his party to come out en masse and vote for the party on February 25 irrespective of the threats of violence and vote-buying by the ruling party.
Nwogu who made the call weekend while fielding questions from journalists of Ngor Okpala origin during an interactive session, charged people of the constituency to be resolute in supporting Labour Party and ignore unnecessary distractions.
The US-trained lawyer and former Chairman of Local Government Service Commission, in Imo State explained that he joined the House of Representatives race because of the interest of the people, not personal interest or sheer ambition.
Describing the coming national polls as the best opportunity for Nigerians to liberate themselves from the shackles of misrule by All Progressives Congress, APC, and restore the nation to the path of economic progress in the shortest time possible.
According to him, the threats of violence and monetary inducements to sway voters to accept the older political parties are mere antics to frighten the electorate to make the wrong choice again.
He described all the candidates of the various parties in the race as qualified to contest based on constitutional provisions for the upcoming polls, Dr Nwogu however declared himself the most qualified of all given his professional background as a lawyer.
He added that his aspiration is most apt if zoning has to come into consideration since both Aboh Mbaise and Ngor Okpala LGAs have completed three terms of 12 years each insisting that another rotation has to commence with Ngor Okpala in the current dispensation.
Nwogu who represented the Southeast and South-south in the Federal Housing Authority, FHA, Abuja, assured that he will do things differently, if elected to represent the constituency by constructively engaging all stakeholders always.
He further appealed to Imolites to use their permanent voter's card, PVC, to elect Mr Peter Obi, presidential candidate of LP and all national assembly candidates of the party in order to make "a New Nigeria possible."