Sports
2026 W/Cup qualifier: Super Eagles arrive Rwanda for Zimbabwe clash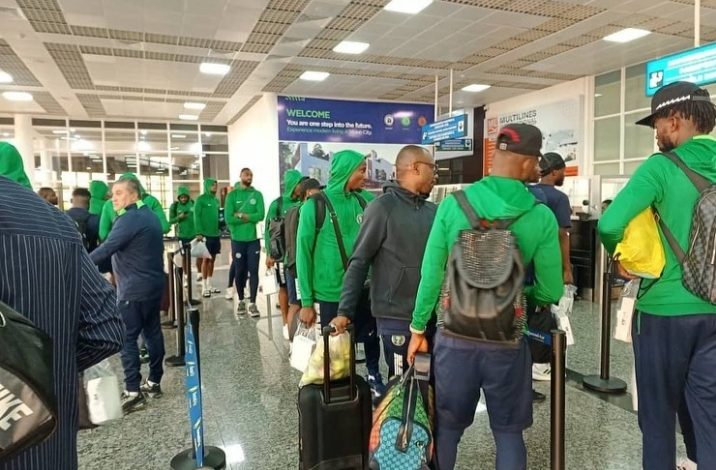 The Super Eagles have arrived Butare, Rwanda, ahead of Sunday's 2026 FIFA World Cup African qualifying Group C game against Warriors of Zimbabwe slated for Stade Huye.
Jose Paseiro side are hoping to make up for their dismal performance in Thursday's opening day's 1-1 draw against the Crocodiles of Lesotho at Godswill Akpabio International in Uyo.
The team would have rested well enough to avoid any travel fatigue before tomorrow's match, which the Warriors also hope to win after battling Rwanda to a goalless draw on Wednesday.
This is against the Warriors, hoping the three-time African champions wouldn't have recovered from playing on Thursday and embarking on the trip to Rwanda.
The team's vice captain, Marshall Munetsi, alluded to this in his pre-match interview, cited by newstap.com.ng
He believes the Warriors can stand toe to toe with Nigeria, saying that the team is evenly matched.
"It's going to be a good challenge against Nigeria, and I'm sure it will be a game of fine margins," said the Stade Reims midfielder.
He continued, "They played their game on Thursday and didn't have much time to recover, so we can use that to our advantage. Obviously, the team has big names but even then, if they don't have time to recover and all the travel involved, it is difficult for them to adjust. We just need to be confident and have a good game plan for us to get maximum points."
Munetsi said he had already psyched up the young Warriors to put in their best and that there was nothing to fear about the big names in the Super Eagles because they grew up in Nigeria.
He said, "I have had some conversations with them. I even spoke to Tivonge Rushesha and told him that when you see a big player, he started somewhere, so you just have to be confident and do well so that you can also reach that level. I even gave an example of me: I grew up in Mabvuku, but I'm now playing at a very good level.
"To be where I'm right now, it's all about confidence and implementing the skills that you have.
"Those big names in the Nigerian team; most of them grew up in Nigeria, so there is nothing to fear. We are here to try our best for the country, and once you know that you have millions of people supporting you, you should be confident to play well and get a good result against big teams like Nigeria. That is how you make a name for yourself."
Zimbabwe were held to a goalless draw by Rwanda on Wednesday, while Nigeria came from behind to snatch a 1-1 draw at home against Lesotho the following day in Uyo.
Both teams look to turn the corner on Sunday, and Munetsi, who is one of the few high-profile names in the Warriors squad, says they will give the former African champions respect but feels Zimbabwe stand a chance in this contest, which he predicts will be very tight.
He said the squad is disappointed that they could not get a result against Rwanda, considered Group C's whipping boys.
"People were expecting a win against Rwanda, but they must know that this was the first time we were playing together as a team.
"Some of us are doing well at our clubs, and the supporters obviously expect us to do the same for the national team, so we are trying to make sure that we get to the standards of winning these kinds of games," Munetsi said.
"Our supporters need to be patient; we will keep on doing our best to make sure that we try to win the game against Nigeria and ultimately try to be at the World Cup."
Preparations for the match, however, did not go according to plan for the Warriors after players refused to train on Thursday in protest over unpaid allowances and appearance fees.
They only agreed to return to training on Friday after the money was transferred to their bank accounts by the Zimbabwean Football Association normalisation committee. Journalists were locked out of the training session as punishment for publicising the players' boycott.