Sports
Cycling federation boss thumbs up Gov Wike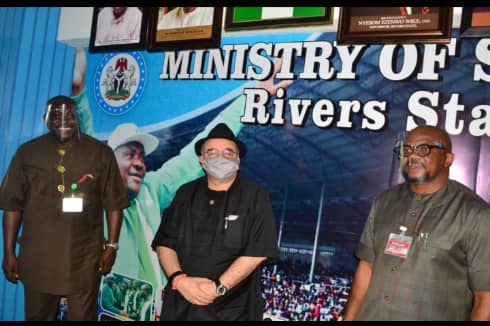 By George Aluo
President of Cycling Federation of Nigeria, Giadomenico Massari says Rivers State has facilities to host international cycling events, even as he commended Governor Nyesom Wike for making roads in the state smooth and cycle friendly.
Massari spoke today when he was hosted by top officials of Rivers State ministry of sports led by sports commissioner Hon Boma Iyaye.
Iyaye noted that despite the restrictions occasioned by the ravaging Covid-19 pandemic, the state received Giadomenico to underline the importance attached to sports.
According to him, the Rivers State government holds sports in high esteem, hence the hosting of several local, national and international competitions aimed at discovering and nurturing talents.
The sports boss added that the Real Madrid Academy being built in the state by Governor Wike-led administration is of world class and a testimony of his commitment to developing sports.
He particularly commended Giadomenico for his efforts and doggedness in promoting cycling as a sport, which he says has brought awakened interest and participation by increasing number of cyclists.
"Government alone cannot bring about sports development without the active participation of committed individuals and companies, hence the need for more involvement.
"Let me task the cycling federation president to work with the Ministry's Permanent Secretary, Sir Honour Sirawoo, on the possibility of hosting a national or international cycling event in Port Harcourt," he stated.
Giadomenico Massari had earlier commended Iyaye for his return as sports commissioner and Honour Sirawoo, over his appointment as permanent secretary in the Ministry.
He was particularly impressed with the quality of road networks being undertaken in Port Harcourt by Governor Wike, saying it is a perfect setting for cycling to thrive.
"I want to commend Governor Nyesom Wike for the massive road infrastructure and network. He is giving a signal to sound and standard that enables cycling to be practiced," he stressed.
Massari called for increased involvement in cycling, saying it is capable of giving hope and opportunities for a life career to both male and female cyclists.
According to him, "Any sport can start from the grassroots, from the school, the need to create advocacy and scouting for tomorrow. Cycling has a lot of benefits including health, decongestion of traffic and less pollution of the environment."
He canvassed for the hosting of local and international cycling events, pointing out that Rivers State can be a centre of sporting activities in Nigeria.