Sports
Abuja International Marathon gets date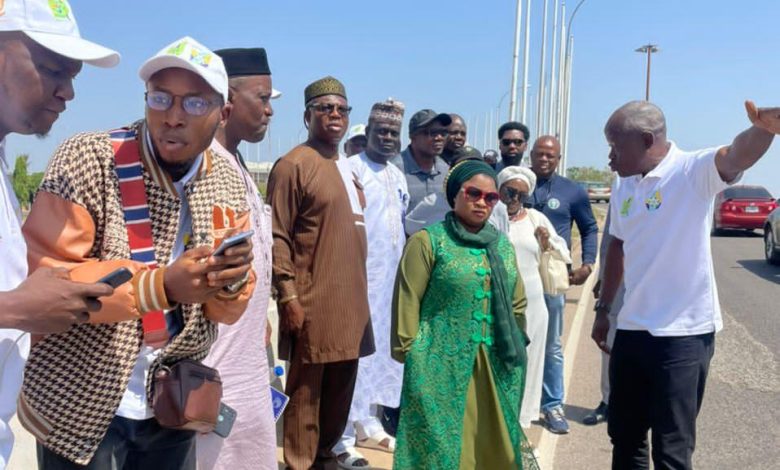 PHOTO: Abuja International Marathon Race Director Olukayode Thomas explaining the route of the race top officials of FCTA led by Secretary Social Development Secretariat Hadiza Mahammed Kabir.
The inaugural edition of the Abuja International Marathon, which is the only full marathon authorized by the FCTA and with route measured and calibrated by AIMS and approved by World Athletics, holds on April 29, 2023.
In a statement signed by the Race Director Olukayode Thomas, the new date was arrived at after extensive consultations with all the stakeholders in the industry from runners to sponsors, officials of FCTA, elite runners at home and abroad, and others.
Thomas said the decision to postpone the race from the original date was painful, "The management and staff of Unicentral Resources Generation Limited will like to use this opportunity to appreciate the general public and all the security agencies in particular for the decision to postpone the race because lives of everyone matters.
"Secondly, though we have put everything in place that will ensure we organize the first full international marathon and make it a memorable one, we prioritized the safety of human lives, so we had to postpone the race to April 29, 2023''.
The Race Director thanked the runners and other stakeholders  who called to empathize and expressed their confidence in the staff and management of Unicentral to organize a world-class race and also express their commitment to participate in the race whenever a new date is announced." We appreciate your support and understanding",
Thomas said April 29, 2023, date is cast in stone,  ''there will be three races on the day, we have the full marathon that is 42.195 km, the 10 km fun race, and the 5km race for students.
 "Also, there are many lead-up activities to the race; they include the unveiling of the winner of the High School that participated in the production of the theme song for the Abuja International Marathon. The race will also be preceded by a week-long Marathon Expo with the theme- Celebrating the Best of FCT-, Other activities include but are not limited to the unveiling of the Marathon Logo, the unveiling of race ambassadors, and others.
 Unicentral Resources Generation Limited is the only organization licensed to organize a full international marathon in FCT by FCTA in accordance with World Athletics norms and best global practices.