News
Achudume charges Nigerian leaders on good governance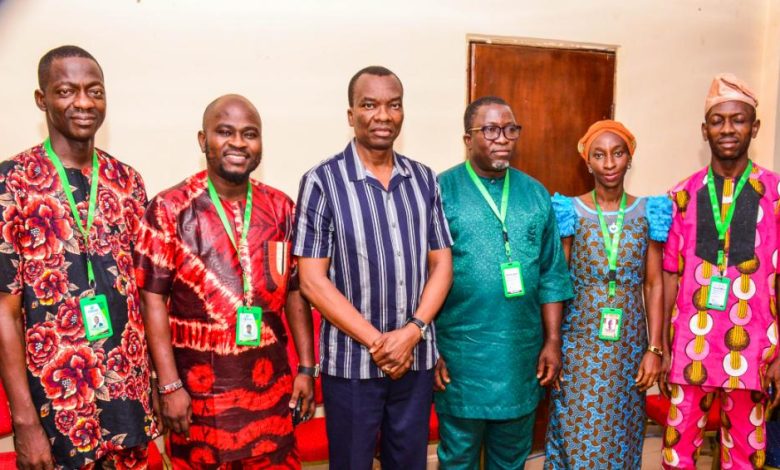 Photo: Apostle Achudume (third left) with the Ogun NUJ executive.
The Founder, Victory Life Bible Church Int'l, Apostle Lawrence Achudume has yet again called Nigerian leaders to work for the collective  good of the citizenry.
He said this much  while  hosting the executive members of the Nigeria Union of Journalists, Ogun State Council on Friday in Abeokuta.
Speaking on the state of the nation, Achudume saw the need for  politicians irrespective  of their  political  ideologies  to understand what it takes to be a good leader, how to be  one and strife to be.
He urged those in the corridors of power not to use their positions to enrich themselves but to make life better for the poor masses, stressing that political  office  holders must  postively impact on the society.
According to the clergyman, until the nation has a set of leaders who are first responsible for the people who voted them into power before thinking about their personal gains, the nation will not get better.
He further posited that Nigerian leaders have no business in religion, stating that some people are using it to divide the nation which  is affecting the overall development of every sector.
He also urged Nigerians to vote based on merit and what individual candidate has to offer and not based on a candidate's religious belief, this he noted,will help the nation to elect credible leaders and not dummies who will use their positions for personal gains.
    While enjoying members of the fourth estate of the realm to be above board in the discharge of their duties,  Achudume opined that journalists as opinion moulders,  should guard against leadership tussles, charging  the new executive members of the NUJ in the Gateway State to use their positions to better the lots of the Union and make ucharging as well as oneness, their guiding principles.
     In hid  remark, the Chairman of Ogun State Council of N.U.J,Comrade Wale Olarenwaju said the visit to the Lead Pastor of  Victory Life Bible Church Int'l was to intimate him about happenings in the  Ogun  NUJ since the new exco came on board.
    Olarenwaju  described  Achudume as a friend of men and women  of the profession, adding that his support and guidance are needed  as one of the foremost spiritual leaders in the state.