News
Ahead of Mega Pilgrims: Nigeria Consular in Israel assures UfitFly of support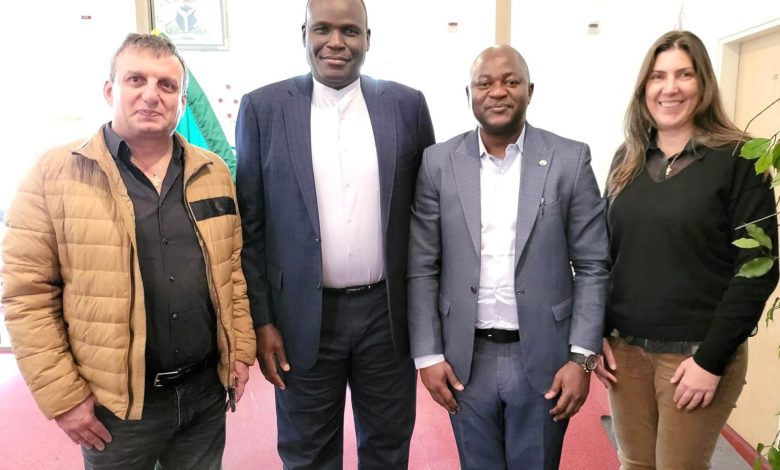 The Nigeria Ambassador to the Israel, Nart Augustine Kolo, (mni) on Tuesday received the crew of foremost Destination Management Company in Nigeria, Absolute Success Travels & Tours the owner of the UfitFly brand and its partners Tabar Tours in Embassy of the Federal Republic of Nigeria in Israel 34, Gordon Street, Tel-Aviv, Israel.
The visitation was led by Evang. Ajibola Ogunkeyede, the team lead of UfitFly and Wisam Tabar and Shadia Tabar, both of Tabar Tours, Tel-Aviv was scheduled ahead of the mega pilgrims and prayer program in the Holy Land of Israel that will be anchored by Prophet Taiwo Ojo.
The consular while warmly receiving the crew in his office said he's happy to associate with the DMC and their unblemished records in moving Christian pilgrims from Nigeria while assuring them of the embassy's cooperation towards a successful mega pilgrimage to Israel that is fast approaching.
Ogunkeyede in his remarks to newsmen expressed his sincere appreciation for the warmth welcome and support received from the Ambassador to Israel Nart Kolo (mni), saying the encouragement is what keeps the firm representing Nigeria with pride and honor.
"We sincerely appreciate your warmth, welcome and support and also your encouragement to keep representing our father land (Nigeria) with pride and honor. And as for the upcoming program, it's evident that the GOD of our forefathers' stills answers prayers like in the days of old and He is here already to answer all prayer requests", said UfitFly boss.