Sports
Ahlan Cup 2018: The off the pitch affairs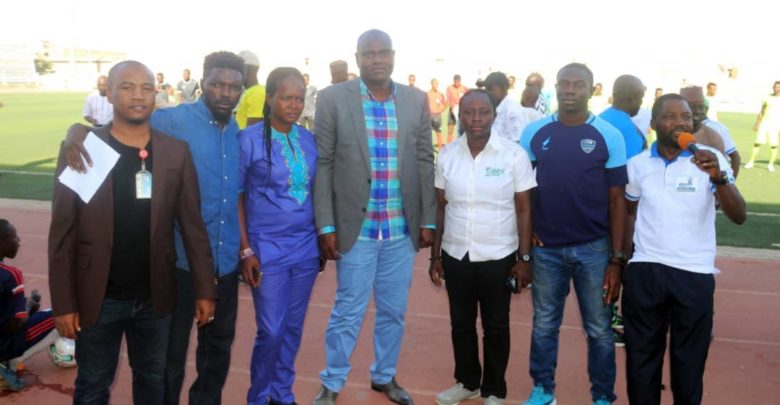 Oluchi tobex Tobe-Chukwu.
It is no longer news that the 2018 edition of the Ahlan Cup has come and gone.
It is no longer news also that Kano Pillars emerged champion after defeating Wikki Tourists of Bauchi in a keenly contested battle in the final.
However, the pre season tournament was not all about the on the pitch affair as a lot of razzmatazz took place outside the Sanni Abacha Stadium venue.
Here, I capture for your reading delight some of the side attractions.
I got to kano on time for the first match and instantly began work, waiting for Jesse Adams to show up not knowing he had an accident on his way to Kano from Makurdi.
As soon as I saw him I knew something was wrong and immediately alongside Sulieman got him to the nearest clinic to be attended to and sure he was treated then we went to look for what to eat.
My respected senior journalist Andrew Randa got to Kano on Sunday evening as I hooked up with him after match day 2. Immediately, we swung into action as we began giving updates on the Ahlan cup which was what we primarily came there for.
A day after I and Jesse's arrival in Kano, we were invited to the turbaning ceremony of Ahlan.
Alhaji Sharif Inuwa popularly known as Ahlan had an epic ceremony as he was conferred the title of Sardaunan by Alhaji Isiaku Tofa Dan Adalan. We missed the ceremony as Jesse was all in pains and I had no choice but to stay with him and become a mother in Kano.
I rejected the beautiful hotel given to us simply because it was in a government residential area and getting food was hard to come by so we relocated to Sabo Gari, one of the most popular places in Kano and it was fully endorsed by Randa the father of the team.
The new place was a beehive of activities at night as we'll go the bar at night after each days work to relax before going to bed. How can I forget to mention that Randa is a real gentleman and always picked the bills.
On what we did at the bar? Sure we ate some fish barbecue and Randa sure loves suya so we ate a whole lot of it with different categories of bottles( you know what I mean)
We were five in the hotel Myself, Jesse Adams, Faith Oluchi, Andrew Randa and Akinkunle Bolarinwa but we had mad fun as a working unit not forgetting Kola Daniel that operated from his own base.
How did I forget to inform you that Andrew Randa is a classy dancer and I couldn't help but watch him twist his waist better than a woman while Jesse Adams knows almost all the songs on the DJ's playlists?
Mr Jude Anyadufu would not stop calling me just to make sure that we are all fine and comfortable. He is indeed a welfare person as reflected in Enyimba International FC.
Alhaji Malikawa, Barr Danladi, Mr Jude Anyadufu and Mallam Auwalu(chairman of wikki tourist) took time to take us out before the Final match. We had to remove our shoes and sat on the floor in the very expensive and classical restaurant.
Did I enjoy the food? It's a story for another day.
Well these are by the way, we saw all the games played at the Kano Pillars Stadium, Sabo Gari and the Sani Abacha Stadium, Kofar Mata.
I was impressed by the qualities displayed by all the teams that participated despite the little lapses encountered during the cause of the tournament.
First Niger Tornadoes came with no jersey and had to delay a few minutes before the arrival of their kits but still outplayed and defeated the highly impressive Rarara Academy from Katsina as they went on to play five games in all, winning 4 straight games before falling to eventual finalist Wikki Tourists scoring 12 goals in the process conceding only two as they bowed out in the semi finals.
Kano Pillars having drawn their first game against Delta Force redoubled their efforts as new players in Bature Yaro, Sunday Chinedu, Uzochukwu Austin Ayaya, Shammah Tanze, Suraj Ayeleso and HIFL sensation David Odenigbo put in robust display as they went on to retain their title thereby showing the world that they are ready for the new season.
Katsina United despite not winning any game at the tournament played beautiful and purposeful football but lacked the cutting edge at the final third. If the team wants to strive in the incoming season then Abdullahi Biffo will have to dig deep for a striker to compliment the performances of his midfielders.
The weather in Kano is never near friendly as harmattan has taken over the city which resulted into me going out early to take 'Shayi' a local hangout where you pay to be served tea. My hooded tops could not even wade off the cold for me as some nights I wished for my legal flesh.
During our time in Kano, we visited the market, shoprite and also visited the cinema as Kano was fun all through.
Kano Pillars won the 2018 Ahlan cup and ended it by sweeping all individual awards as Auwalu Ali Mallam won both the MVP and the highest goal scorer award while goalkeeper Danladi Isah was adjusted to be the best goalkeeper of the tournament.
With the total of 10 teams registering for the competition a total of 21 games was played with a total of 52 goals scored averaging 2.5 goals in every game.
The highest scoring side is champions Kano Pillars with 15 goals from 6 games while the tightest defense is definitely Niger Tornadoes which conceded only 2 goals in 5 games.
Okagbue of Onitsha leaked in the highest number of goals, 12 goals with the highest scoring game was between Rarara Academy defeating Okagbue by 6 unreplied goals with two record being set in the process. First, Babangida Abubakar, the first player to score 4 goals in a single game at the Ahlan Cup while the second one saw Abdulrahshid Shehu becoming the youngest player to ever score a goal at 15 years.