Sports
Anambra Sports Commission set to reposition sports Associations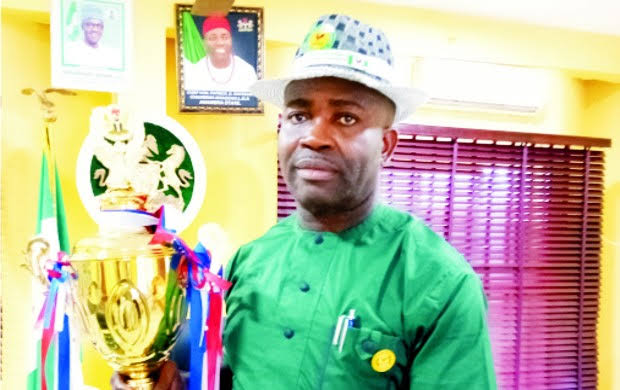 The Anambra Sports Commission is set to unveil sports associations, its Chairman Patrick Estate Onyedum says.
"We have identified that this will be the way to begin our quest for sports development from the grassroots.
Onyedum said this during a familiarisation visit to his office by Tony Nezianya, the newly elected Public Relations Officer of the Nigeria Olympic Committee (NOC) in Awka, the Anambra capital.
According to Onyedum, we have taken inventory of the performance and contributions of the previous boards, whose tenures have elapsed.
"There is no doubt that a few made sterling contributions for which we are indeed happy but a number of them are moribund.
"We shall seek the approval of the Government to reactivate the associations by formally dissolving the previous boards,'' Onyedum noted.
"We shall certainly have some goals in mind in reconstituting the boards.
''We hope to use the association to discover the many talents that abound in the state and that must be made clear to the chairmen of their executive committee members.
''They must seek to hold regular meetings and competitions by raising funds from the private sector in support of their sport that will invariably support to Government. Government cannot develop sports on its own.
''We shall allow new associations and new sports to be grown in our state.''
Onyedum, who served the Athletics Federation of Nigeria, said he hopes to allow relatively new federations to establish in Anambra.
''We shall allow them so long as these will facilitate the human development index of the state as well our quest for medals and honours to the state from local and international competitions.
''We do not have all the resources we require to develop our sports and infrastructure. We shall encourage those that will attract the development of infrastructure to support the growth and development of sports in Anambra.''
Earlier, Nezianya requested Mr Onyedum, to allow federations like the Nigeria Triathlon Federation to start an affiliate Association to establish in the state.
Triathlon an Olympic sport comprises three-in-one sports — Cycling, distance running and swimming, where an athlete can win an Olympic Gold by amassing points.
''There are some others that may wish to make similar requests. Let's welcome them they may be the ones that can secure the state the honours they have been looking for,'' he said.
Nezianya, the only person from the Southeast on the NOC board had served twice in two Olympiads from 2001 to 2005 and 2005 to 2009.