Sports
Aquatics-Diving: British 17-year-old star to get New York treat for winning gold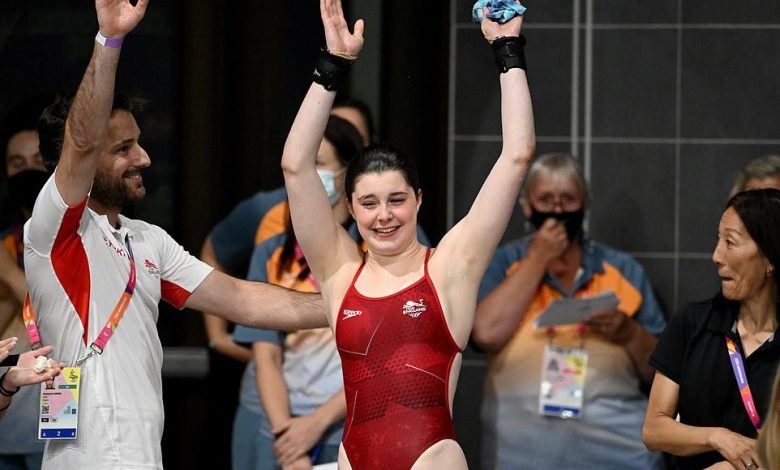 Photo: Fred celebrates with her golden daughter Andrea at the just concluded Birmingham 2022 Commonwealth Games.

From George Aluo, Birmingham
One of the breakout stars of the just concluded Birmingham 2022 Commonwealth Games, Andrea Spendolini-Sirieix is to get a New York holiday treat from her proud father, Fred.
The 17-year-old British girl won gold in the mixed 10m synchro alongside Noah Williams to the delight of the father and the fans at the swimming venue.
After her splendid showing the rising star stated…"I'm very honoured to have been a part of this team, it was extremely strong and we showed everyone how powerful we are.
"I came here with no expectations, I just wanted to have fun and improve all of my dives. I made a decision to train even harder than I was over the last couple of months and it definitely worked.
"I'm not going to put pressure on myself. Whether there is external pressure or not the internal pressure is the one which makes you crumble.
"I told Noah, if we do well we can all belly flop (to celebrate). So I got Kyle, Lois, me and Noah and said 'come and guys let's go and belly flop'. They didn't really know what was happening but we had fun and it was the perfect way to end the competition.
"Now we have got Europeans so I will focus on that, after that I will take a break, have my summer holiday and come back even stronger."
Spendolini-Sirieix has been one of the stories of the Commonwealth Games, with father Fred, the maitre d' on Channel 4's First Dates, promising to take his daughter to New York after her first gold.