Sports
Asaph Zadok National Scrabble Championship ends today as Eight year old, Saviour Onzi shines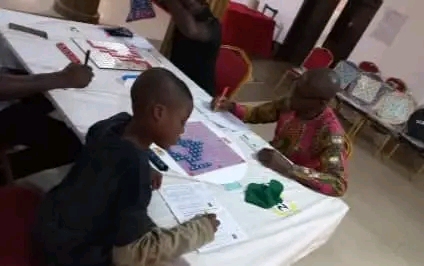 By Maxwell Kumoye
The identity of the player won will be decorated on Sunday with the NSF Green Jacket will be known later today (Wednesday), March 22nd as the curtain falls on the most prestigious National Championship in the scrabble calendar in Nigeria, the Asaph Zadok National Championship in Abuja.
Nine gruelling rounds of games will be played at the Classy Hall of the exotic Hotel de Bentley in Utako-district the venue that is playing host to the NSF Scrabble Festival a four-in-one event.
At the close of play on Tuesday, one of the eight players from the Centre of Excellence 'Lagos' John Aiyedun heads the table with 14 wins from 19 games and a cumulative points of plus 994.
Another member of Team Lagos and current African Champion, Enoch Tochukwu Nwali is second on the log with 13 wins and plus 1374 cumulative points.
Eta Paul Oghenekaro, Peter Ebomah and youngster Jimoh Abdulmumin the 2022 National Sports Festival gold medalist are also on 13 wins each but separated by cumulative points.
It's interesting to know that, twenty other players are still in good position to win the championship and wear the NSF Green Jacket.
All eyes are on two time African Champion Dennis Ikekeregor of Team Delta who is on 12 wins and a draw, Emmanuel Umujose another strong member of Team Delta, Emmanuel Umujose leads the group of players with 12 victories from 19 games.
Ezinore George, Emmanuel Ofidi, Ben Quickpen and Oshevire Avwenagha are the other players with 12 wins as we go into the final day today.
Nine players who can hold their own any time are on 11 wins. Prince Omosefe, Okiemute Tega, Segun Durojaye, Adebola Samuel, Olatunde Oduwole, Adegbola Abiola, Henry Nwosu, Cyril Umebiye and former World Champion, Wellington Jighere are three wins short of the pacesetter John Aiyedun.
Joy Ola and eight year old Saviour Onzi picked up more wins on day 2. Ola moved from the 41st spot on day 1 with 3 wins to number 27 with 7 more victories to stay at number 27. With ten wins from 19 games, Joy Ola is gradually marching to the Masters bracket that has only one female, Bukunmi Afolayan with 1410 rating points at the moment.
Saviour Onzi picked up four wins on Tuesday, two more than what he got on Monday, leaving him in the 56 spot.
Fresh from the Isreali International Opens, Jack Mpakaboari is among 13 players with 10 wins and can still spring some surprises in the difficult and challenging scrabble terrain in the home of the game of words, Nigeria.
Dipo Akanbi, Bright Idahosa, Christopher Nnamani, Joy Ola, Clarkson Ismail, Joseph Okere, Oyebola Alli, Adedeji Khaleel, Umukoro Oghomaria, Adebowale Qamar, Anthony Odok and the man with the high game of 712 on day 1, Fubara Tamunosiki are on 10 wins each.
Ndubueze Oti with 2 wins and Festus Onewokae with a win are marking time at the foot of the Asaph Zadok National Championship table
This is the standing after day 2 action ended on Tuesday:
1 John Aiyedun 14 994
2 Enoch Nwali 13 1374
3 Eta Karo 13 792
4 Ebomah Peter 13 774
5 Jimoh Abdulmumin 13 662
6 Dennis Ikekeregor 12.5 1227
7 Emmanuel Umujose 12.5 497
8 Ezinore George 12 753
9 Emmanuel Ofidi 12 556
10 Ben Quickpen 12 300
11 Oshevire Avwenagha 12 -40
12 Prince Omosefe 11 1180
13 Okiemute Tega 11 651
14 Segun Durojaye 11 520
15 Adebola Samuel 11 434
16 Olatunde Oduwole 11 361
17 Adegbola Abiola 11 251
18 Henry Nwosu 11 63
19 Wellington Jighere 11 -36
20 Cyril Umebiye 11 -192
21 Fubara Tamunosiki 10 777
22 Oyebola Alli 10 544
23 Clarkson Ismail 10 307
24 Okere Joseph 10 274
25 Bright Idahosa 10 232
26 Dipo Akanbi 10 225
27 Joy Ola 10 209
28 Nnamani Christopher 10 207
29 Adedeji Khaleel 10 -57
30 Umukoro Oghomaria 10 -123
31 Adebowale Qamar 10 -171
32 Anthony Odok 10 -297
33 Jack Mpakaboari 10 -494
34 Thorpe Chinedu 9.5 403
35 Olaitan Timi 9.5 338
36 Curtis John 9.5 103
37 Olatunde Adigun 9 87
38 Chinonyerem Onyema 9 66
39 Salau Samson 9 -213
40 Victor Lokoja 9 -450
41 Ekwenugo Emeka 8.5 177
42 Chukwukelu Peter 8.5 114
43 Simeon Oyadiran 8.5 84
44 Negro Igbinadolor 8 405
45 Victor Ewarah 8 171
46 Raji Kazeem 8 -11
47 Paul Odiaka 8 -19
48 Friday Ogbonyomi 8 -133
49 Ogaba Patrick 8 -338
50 Benjamin Isa 8 -348
51 Olu Chinedu 8 -479
52 Tunji Ayeni 8 -685
53 Okim Eugene 7 -15
54 Aladenika Richard 7 -229
55 Ibrahim Adamu 6 -895
56 Saviour Onazi 6 -1389
57 Oluwatosin Banjo 6 -1733
58 Olusesan Adeleye 5 -1157
59 Ndubueze Oti 2 -4730
60 Festus Onewokae 1 -1878