Politics
Assembly Poll: Gov Diri Galvanises Support for KOLGA PDP Candidates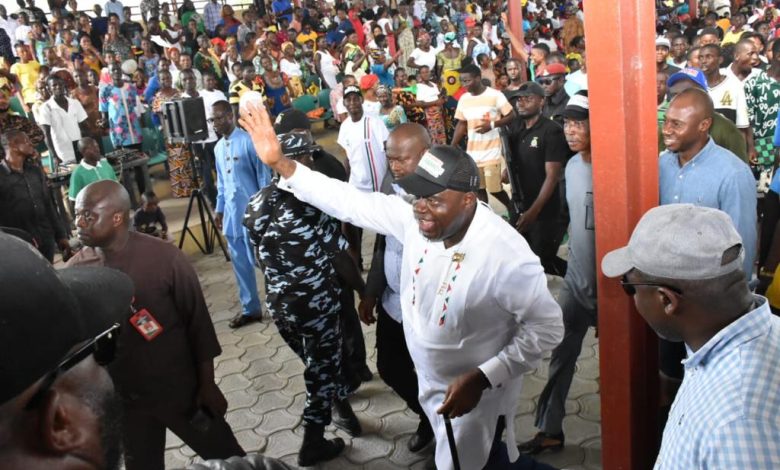 Ahead of Saturday's House of Assembly election in the state, Bayelsa State Governor, Senator Douye Diri, has urged the people of Kolokuma/Opokuma Local Government Area to vote massively for the Peoples Democratic Party (PDP) candidates.
Governor Diri made the call on Thursday when he embarked on town hall meetings in various communities in the local government area to galvanise support for his party's candidates.
He thanked the people for voting massively for the PDP's candidates in the February 25 Presidential and National Assembly elections.
Senator Diri noted that Bayelsa is a stronghold of the PDP as attested to by the results of the February 25 election that the candidates of the party clinched seven of the eight National Assembly seats with one still pending.
He implored the people to re-enact the feat in the 24 constituencies in the state, including the two in KOLGA on Saturday.
At Okoloba/Sabagriea and Opokuma communities, while lending his support to the candidate of the party and member representing Kolokuma/Opokuma Constituency 2, Wisdom Fafi, Diri urged his constituents to ensure continuity of good governance by re-electing him.
According to the Bayelsa helmsman, Fafi has performed well in his first term and needed another tenure to continue to positively impact the lives of the people.
Similarly, Diri called on the people of his Constituency 1 to vote for the PDP candidate, Pamoh Werinipre.
Representatives of the various communities, in their remarks, thanked the governor for his administration's achievements and urged him to do more in the areas of employment, infrastructure, empowerment among others.
While responding to requests by the communities, Diri assured that his administration would complete ongoing projects and embark on new ones based on available resources.
Highlight of the programme was the presentation of assembly candidates of the Zenith Labour Party (ZLP) and the Social Democratic Party (SDP) for constituency 1, who defected to the PDP and stepped down for the PDP candidate, Pamoh Werinipre, at the Odi town hall meeting.
Other communities visited were Kaiama and Igbedi.