News
Atula Foundation to get Ijegun Monarch's backing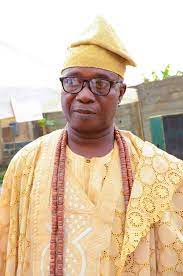 By Ifeanyi Eduzor
The Onijegun of Ijegun, His Royal Majesty, Oba Nureni Alani Akinremi, Olomitutu, Ilufemiloye, Kudeyibu 1 has said that he will support the activities of Pa J.B. Atula Foundation if the organization is truthful and ready to serve the community meaningfully.
He stated this when the organisations' team paid him a courtesy visit in his Palace recently.
The Monarch expressed hope that the foundation will not be like other similar organizations that have visited him in the past with lots of offers to improve the town but never came back after promising the community members heaven on earth.
''Our beautiful land of Ijegun has continued to be a blessing to both the indigenes and non Indigenes alike as you can see. We indeed mean well because we want our town to be fully developed but we don't want to be deceived again as we have been deceived severally in the past.
" If you know that your organization's projects and programmes are genuine, we will welcome you and give you all necessary support to carry out your programs. Regrettably those that have come on such missions in the past were not truthful to us. My chiefs can testify to this.
"A lady came sometime ago; we put heads together, planned together and gave her all the necessary information and ideas that she need but as am talking to you now, she does not pick our calls again; she dissappointed herself anyway.
" Another one came that he wanted to empower people financially and after series of meetings with him , he never came back and so many more. But all these notwithstanding, we are here to support great ideas that will bring development to Ijegunland"explained Onijegun.
''If the intention of your organization is to favour the organizers alone and not the community, it is not allowed. We don't buy lies and we don't sell lies so if you have good intentions, we will work with your group but if not, we won't be part of it . We don't want our people to be swindled for any reason'' the king emphasized.
Earlier in her speech, the team leader explained that the purpose of the visit was to inform the Monarch about the commencement of a health outreach which the Foundation wants to carry out at Kayode Oke Street in Ijegun assuring the Monarch and his cabinet that the programme will be free
''Basically the programme will be free. HMO schemes would be run which has to be subscribed for annually and when you register with us and you have any medical challenge, , you will send the result to the hospital we are patrnering with. We are situated in the heartbeat of Ijegun and we have no hidden place." she stressed
The PA J.B. Atula Foundation that has been set up to empower Nigerians with a better knowledge and understanding through education, recreation and information to make healthier choice for future well-being is situated in Kudehinbu Estate of Ijegun, a peaceful town that Is fast becoming a metropolitan city with very wonderful infrastructural development witnessed so far since the tenure of Oba Alani Akinremi..
The organizational team that visited the Monarch was led by the Project Manager, Uzoamaka Obiaku. Others in her team includes; the Project Coordinator, Florence Atula, Project Finance Manager , Miss Juliet Atula, Project Administrator, John Atula and the Publicity Manager, Olusesan Olukoya.