Sports
Battle of Accra: Super Falcons ready to overpower Lionesses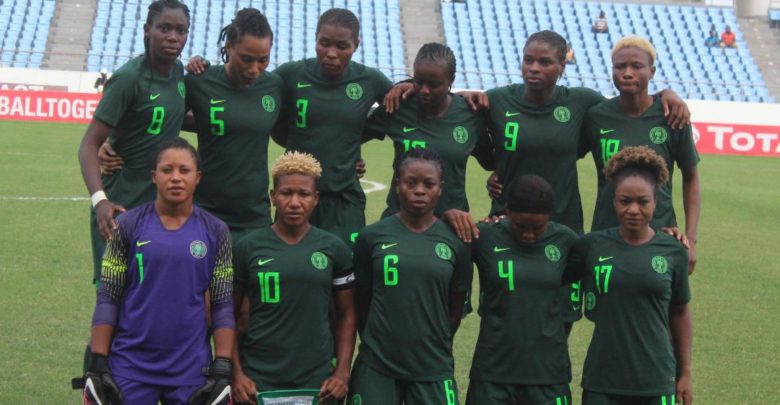 Cup holders Nigeria have expressed confidence of reaching the Final of the 11th Women Africa Cup of Nations, ahead of Tuesday's semi final clash with the Lionesses of Cameroon at the Accra Sports Stadium.
A 4-0 win over Zambia in Cape Coast on Wednesday zoomed the Falcons back into contention following an opening-day 0-1 loss to the Banyana Banyana of South Africa, and the 6-0 mauling of Equatorial Guinea on Saturday sent the Nigerians into another semi final stage – a stage they have never failed to reach at the Women Africa Cup of Nations.
On Tuesday, the eight –time winners come up against the Lionesses of Cameroon, their victims in the Final of the last edition of the tournament. A capacity Stade Omnisports Ahmadu Ahidjo in Yaounde watched in sheer agony as Desire Oparanozie scored a late goal to give Nigeria victory and the trophy two years ago.
"We are in great spirit for the semi final match with the Cameroonians," team captain Onome Ebi told thenff.com. "We made our mistake against South Africa, and I think it was a great wake-up call for us. That defeat told us something: that we should never under-rate any team and that we must be ready to give our 100 per cent for every match.
"We will give everything we have to get past the Lionesses and qualify for the World Cup, and then we can battle the final with whichever team we meet there."
Oparanozie, whose goal saw the host team sucking at their thumbs two years ago, has netted twice in this tournament, same as all –action winger Francisca Ordega, with Asisat Oshoala boasting a hat-trick against Equatorial Guinea, and other goals by Rasheedat Ajibade, Rita Chikwelu and Amarachi Okoronkwo.
The winner on Tuesday earns an automatic ticket to next year's FIFA Women's World Cup finals in France, with the loser having another opportunity as the third placed team will also get a ticket. The loser takes on the loser of the second semi final between South Africa and Mali (also on Tuesday evening, in Cape Coast) to determine who bags the third ticket to France.
"We are not interested in the losers' route," Ebi confirmed on Monday. "We want to get to the final and to fight to retain our trophy. We want both the World Cup ticket and the AFCON trophy."
Midfield ace Rita Chikwelu said: "When the going gets tough, the tough gets going. Playing Cameroon will bring the best out of us. It will not be easy and it should not be easy. We knew before the competition started that if we must retain the Cup, we would have to beat the best and strongest teams out here."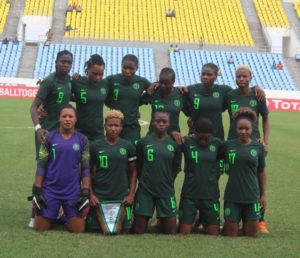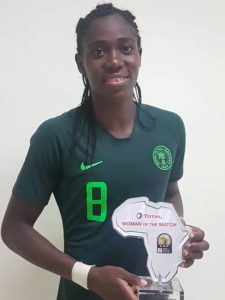 The Lionesses bagged seven points from three matches to top Group A, beating Mali and Algeria and drawing with hosts Ghana in a match that saw the host team eliminated. Nigeria finished second in Group B with six points behind seven –pointer South Africa.
"We will work as a team on the day," Asisat Oshoala, Woman of the Match against Equatorial Guinea, assured. "Together, we will achieve more. We all know that and we will follow that etho and get to the final. Cameroon cannot stop us."
Tuesday's match starts at 3.30pm Ghana time (4.30pm Nigeria time).
Ebi: We're motivated to fly past Cameroon
Captain Onome Ebi has declared that the Super Falcons are in the right frame of mind to give their all and subdue Cameroon's Lionesses in Tuesday's Women AFCON semi final battle in Accra.
"We are in very high spirit. The entire team is well motivated. Our immense gratitude goes to our father, the President of Nigeria, President Muhammadu Buhari, as well as the NFF led by its President, Mr. Amaju Pinnick. The Government has done well to put us in good frame of mind and the NFF has done their own part. It is now for us to repay the good gestures.
"We know that if we continue to win, it means more money in our pockets. And surely, we want to win more and make more money. The Cameroonians cannot stop us from the World Cup or from retaining our Cup. The Cup is ours."
The Falcons arrived Accra on Sunday and trained at the Priesec School in Legon, ahead of the official training at the Accra Sports Stadium on Monday evening.
Reigning African Woman Player of the Year, Asisat Oshoala, added: "Our captain has said it all. We are here and we are very happy because our welfare is being attended to. We have received from the NFF the things we have asked for, and we believe they are ready to do even more if we also do more.
"Losing to South Africa in our first match is a big lesson we have taken to heart, but we have put it at the back of our minds having learnt from it. Any team can lose if it doesn't give its all, or fails to come to the party.
"On Tuesday, we will come to the party strong and focused and we will do the needful."
Dennerby: We expect nothing but victory
Nigeria are not expecting anything from Tuesday's semi final clash with Cameroon except victory and a place in the Final of the 11th Women Africa Cup of Nations, according to Head Coach Thomas Dennerby.
A place in the final will also guarantee the Super Falcons a slot at the 2019 FIFA Women's World Cup finals in France.
Speaking at the pre –match conference on Monday, Dennerby said: "Our preparation is good; we simply work on the team and we don't change so much. We had a plan coming to the tournament and we stick to it. This is one of five games in total, and our objective remains a place at the World Cup as well as defending the trophy.
"Our primary objective had always been qualifying for the World Cup. We have a good opportunity to achieve that tomorrow. We have to stick by our match plan and be fully focused. Victory and World Cup ticket tomorrow will make us more relaxed playing in the Final."
On her part, Captain Onome Ebi said: "Whenever we play Cameroon, it is always a big fight. We are prepared for the big fight tomorrow and we are sure we will come out victorious. There is no doubt that the Cameroonians have improved from the team we defeated in Yaounde in 2016. But that is expected.
"Whatever the opposition, we study them and apply what is necessary for us to win. We are the champions and we know how to approach the game to get victory."