Sports
Bayelsa Sports: Gov Diri wants sponsors for SDD annual marathon, others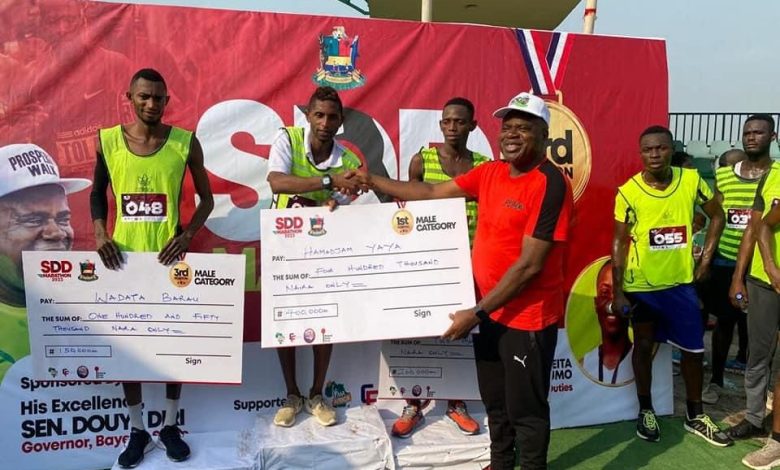 By George Aluo
Bayelsa state governor, Senator Douye Diri has tasked corporate bodies doing business in the state to sponsor sporting activities, especially the annual 15 km marathon named after him.
Diri who spoke after yesterday's race directed his deputy and the state sports commissioner to scout for corporate sponsors for sporting activities in the state, even as he directed that the marathon be incorporated into the state's sports calendar.
Hamadjan Yaya from Cross River State and Lidiah Akuaho from Plateau State on Saturday emerged winners in the male and female categories of the 15km marathon race which is in its third edition.
The race was part of the activities commemorating the third anniversary of the Governor Diri administration.
Other winners in the male category are Tosin Adedeji from Ogun State, who came second while Wadata Barau from Bauchi came third.
In the female category, Patience John also from Plateau placed second and Charity Agofure of Delta State came third.
The competitors took off from Akenfa and concluded the race at the Peace Park in Yenagoa.
The governor stressed the need to develop the sports sector, describing it as a money-spinning venture as well as a veritable tool to foster peace and unity among the people.
His words: "Let me call on those who are doing business in Bayelsa, particularly those doing business with the state government, that by next year I want to hear that a particular company has taken over the sponsorship of this marathon.
"Today, we have winners that are not from Bayelsa but from other states such as Plateau, Bauchi, Cross River and Edo. That is why we are one country and we will continue to live together and compete very favourably to ensure this country produces top athletes in world marathon.
"Going forward, this marathon should be in the calendar of the Ministry of Youth and Sports.
"I also commend Comrade Igbeita Idonkumo, a young man from my local government who initiated this race out of his emotion on my emergence as governor of this state.
"He trekked with a few others from Kaiama to Yenagoa to show solidarity and happiness with the government and that was how this race started from 2020."
Also, the Commissioner for Youth and Sports Development, Daniel Igali, said the SDD Marathon is to encourage young Bayelsa athletes to compete in long distance races both at the national and continental levels.
Congratulating winners and all participants, Igali appreciated Senator Diri for his unflinching support to the sports ministry.
"I want to use this opportunity to thank you for always making sure we achieve giant strides in sports and making the state the leading sports destination in Nigeria in just three years in office as governor.
"As a result of your leadership style, you always back it up with action and that is why we see the results.
"We started this marathon event three years ago. Hopefully next year we will ensure it gets a bit longer because now it is about a quarter mile.
"Since we are not good in the long distance race, this is one opportunity for some of our young athletes to begin to compete in this sport in order to come out tops nationally and even at the continental level."
The winners in both categories got N400,000 each while second placed winners got N200,000 each and third placed N150,000 each.