Sports
Bishop Mike Okonkwo tourney: Ndubuzor promises exciting finals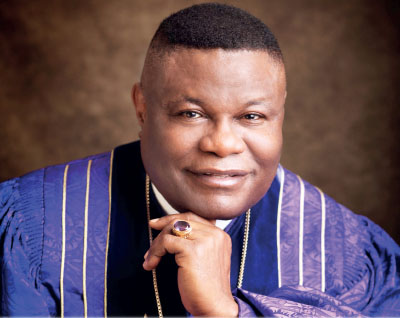 By Ifeanyi Eduzor
Chairman of the Local Organizing Committee of the annual Bishop Mike Okonkwo ( MFR) football competition, Deacon Malachy Ndubuzor says that the committee is planning to organize an explosive finals.
The tournament in its 18th edition will come to an end on Saturday, September, 3 at the Yaba College of Technology play ground and Ndubuzor assured that the finals will be a cracker which will treat fans to the best of football artistery.
According to him he's happy with the successes recorded in the championship and how players conducted themselves from the group stage to the knockout stage; saying that they've achieved the objectives of the competition which is aimed at helping talented players further develop their skills and also empower them.
"I'm happy that the season 18 of the biggest and most popular grassroots football tournament in the country is gradually coming to a fruitful conclusion. It's equally a thing of joy that we are about to witness the successful completion of another mission. At the beginning, it looks as if we were not going to have it but by the glory of God, we were able to accomplish our mission.
"You're aware that we are known for organizing the best grassroots football tournament in the country and definitely we're going to raise the bar again in this year's finals because we don't want our opponents to overtake us.
" Kudos must also go to the players who conducted themselves well and hopefully, they will continue like that till the finals", he stressed.
Ndubuzor, was not happy with the Nigerian Football Federation for not showing interest in the competition but expressed hope that they will soon come around to see what they're doing.
"It's regretable that the NFF has not deemed it fit to show interest in our tournament. I want them to realize that globally football fraternity is all about grassroots development of the game. We cannot continue importing everything in this country; we import food, tooth pick, drugs and players which is wrong because we've talents in abundance in this country. "It's high time the football house give us their support and I hope that very soon they will do the needful", he stated.
Also speaking about the finals Rev. Oluyomibo Akinbo noted that the competition has undergone some transformations since inception which has seen it move from 8 teams to 34 teams and then to 64 male and 8 female teams as well as witnessed progression from one level of improvement in technicalities to the other.
"I'm happy that the tournament since it started has witnessed one transformation or the other. It has metarmorphosed from 8 teams to 64 male and 8 female teams. This season was like a come back because of COVID-19 Pandemic and that was why we had 32 male and 8 female teams but next year will be bigger.
He was particularly happy that the tournament has given hope to many youths who hitherto would not have been known even as he appealed to public spirited individuals and corporate organizations to join hands with the presiding Bishop of The Redeemed Evangelical Mission ( TREM) Bishop Mike Okonkwo in sponsoring the tournament which is aimed at empowering the youths.
" This tournament has recorded a lot of successes and need the support of all to further develop the country's grassroots football. You'll recall that in 2018, Lagos State Referees Association awarded us the best grassroots football tournament organizers in the state. Apart from this, we have testimonies of people who have played in this tournament who are plying their trade abroad; some have gone on trials abroad while some are playing in the national league. It was here that Kabiru Mohammed was discovered and invited to the Golden Eaglets and he was the only player in that squad that did not have a club, so we need that support to continue doing what we're doing", he concluded.
Meanwhile in some of the semi- final matches decided Saturday at the Digital Trainning Institute ( NITEL) play Ground, Oshodi, Dominiun Hotspur defeated Aux Exclusive by 4-0 to qualify for the finals while in the female category, defending champion Young Talent FC defeated Nakamura FC by 5-4 penalties after their game ended 0-0 at regulation time just as Lake Side FC recorded a 2-0 victory over Danas Queens.