Sports
CAF U-20: SESC Chieftain, Alao Bags Award From CAF, Nig. Amb. To Egypt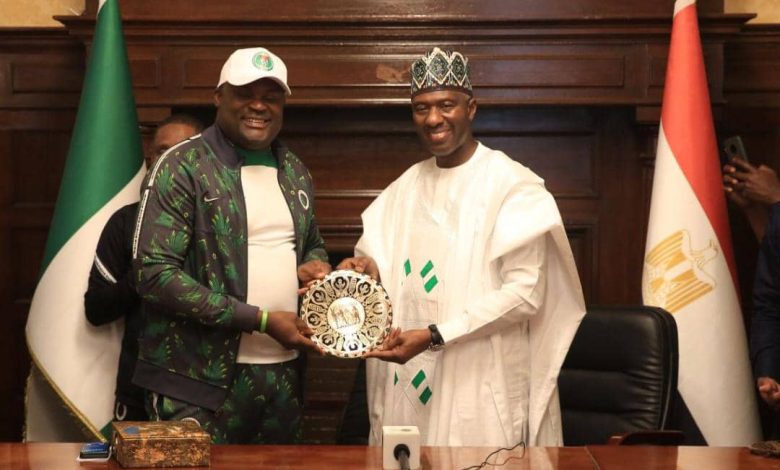 As the 2023 Africa Under-20 Cup of Nations came to an end over the weekend in Egypt, a chieftain of Super Eagles Supporters Club (SESC), Alhaji Musiliu Alao was among the recipient of the bronze medals won by the Nigerian Flying Eagles and also got an award of recognition from the embassy of Nigeria to Egypt.
In appreciation of an exemplary display during the tournament, the
Nigerian Ambassador to Egypt, Nura Abba Rimi presented an award of recognition to Alh. Alao while receiving the contingents in the Embassy of Nigeria in Egypt located at 13, El Gabalaya Street Zamalek, Cairo, Egypt on Saturday morning.
Chairman of Chairmen for the SESC, Dr (Barr) Johnson Dagana who doubles as the Chairman of the Bayelsa State Chapter of Super Eagles Supporters Club has congratulated Alh Musiliu Alao for being a good ambassador of the country and SESC during the CAF tournament where Nigeria U-20 team ended up second runners-up with bronze medal.
"In appreciation of the efforts of the Super Eagles Supporters Club to the successful outing of the Flying Eagles during the Tourney, Coach Ladan Bosso for the first time listed me among the recipients of medal and that is why I'm dedicating this to all the members of Super Eagles Supporters Club, both here and at home. It is our honour", Alh.
Musiliu Alao said while reacting to the development.
It will be recalled that Alhaji Musiliu Alao has earlier during the tournament won the Orange Fan of the Match Award, an award from CAF for best supporter and also representing SESC in Egypt.