News
Catholic cleric, Fr Iheanacho berates Nigerian Politicians @ Pentecost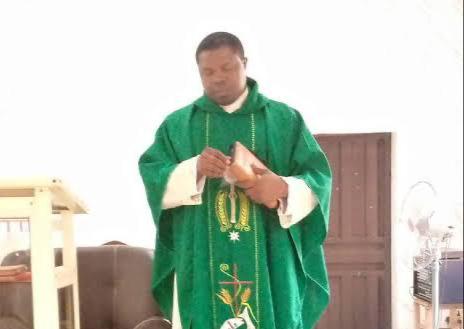 Photo: Rev Fr Donald Chidiebere Iheanacho
By George Aluo
Fr Donald Chidiebere Iheanacho has berated Nigerian politicians for not doing the right thing, a situation that is making the country to gradually bleed to death.
Fr Iheanacho who is a priest of Abeokuta diocese spoke while delivering his Pentecost Sunday homily at St Vincent Catholic Church, Olodi Apapa where he ministered in a three-day Pentecost Retreat.
The man of God said Nigeria is literally dead and awaiting burial because of the activities of Nigerian politicians who he noted are not doing the right thing.
Fr Iheanacho stated that there was nothing to celebrate as a new administration takes over tomorrow (May 29) insisting that INEC under Mr Mahmoud Yakubu conducted a shambolic election that at best made a mockery of democracy.
"It is obvious all is not well with our country. As a matter of fact Nigeria is literally on life support and to revive the country our politicians must change their ways. Those in charge of the judiciary must repent and stop cash and carry judgment that would see somebody who came fourth in an election coming first."
Continuing Fr Iheanacho asked…
"Can Mahmoud beat his chest to say he has done the right thing in the election he conducted? Or can President Buhari beat his chest to say he has done the right thing in the last eight years of misery?"
Fr Iheanacho also warned the youths who now indulge in yahoo yahoo and kidnapping in a bid to make quick money to retrace their steps and repent to avoid incurring God's wrath.
"It is one thing to make quick money by dubious means and it is another thing to enjoy such ill gotten wealth. Those who make quick money end up not sleeping well at night," Fr Iheanacho warned.