Feature
Chief Emmanuel Iwuanyanwu: Celebrating Impactful Life @ 80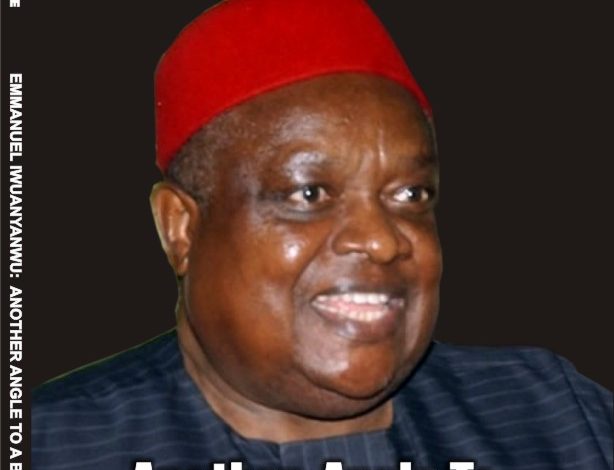 By Ochiagha Nnanna Okere
Chief Emmanuel Iwuanyanwu, born on September 4th 1942 in Atta, Ikeduru Local Government Area of Imo State, is a civil engineer, industrialist, retired politician and philanthropist. He is one of the earliest Nigerians who understand that the private sector is indeed the engine room of development and embraced it wholeheartedly, investing his resources in many sectors of Nigeria's economy with resounding success.

His investment pedigree is vast, from civil engineering, real estate, agriculture, manufacturing, health, media to sports among others. Through all these investments he has impacted the lives of millions of Nigerians in a positive way as a major contributor to the country's socio-economic development. His impact has not gone unnoticed by his countrymen and various administrations in the country. A grateful nation has therefore honoured him with the highest awards including; Commander of the Federal Republic (CFR); Officer of the Order of the Federal Republic (OFR) and Member of the Order of the Federal Republic (MFR) respectively. These awards are the rewards for hardwork,obedience, patriotism, encouragement, meritorious service, outstanding feat and selfless service.
The man who bestrides Nigeria's business landscape like the proverbial colossus will be 80 years old on September 4. In all these years of investing and trusting in Nigeria he has left indelible marks in virtually every sector of the Nigeria's economy.However, it is in the areas of Sports through Iwuanyanwu Nationale FC of Owerri and Newspaper publication that he gained national acclaim and captured the consciousness of Nigerians.  His flagship publication, The Champion Newspapers was part of Nigeria's recent history.
Apparently aware that the media is the backbone of any society, Iwuanyanwu used his newspaper as a platform for the education of Nigerians on socio-political affairs. Iwuanyanwu did not only provide a national platform to Nigerians to be informed and to express themselves during and after years of militarydictatorship, he also provided a voice for Ndigbo at a time the newspaper industry was almost totally dominated by other sections of the country. Of course, no one would set up such a huge establishment like the Champion Newspapers Ltd without the purpose of making profit.
It is profitability that drives investment. But Champion Newspapers was much than a place set up for profit making; it eventually became the incubator of young men and women for positions of authority in government and elsewhere. I was a beneficiary of such incubation.
Recently, I was in my home in Finland reminiscing on my life and the role that Champion Newspapersplayed in shaping me and people like me, it became obvious that we cannot stop celebrating Chief Iwuanyanwu who had the foresight of putting his money in newspaper publishing when there were other more profitable options open to him.
Also, recently, the social media was awash with video clips of encomiums being poured on elder statesman by prominent and eminent Nigerians such as former Military President Ibrahim Babangida, former President Goodluck Jonathan, former Senate President Anyim Pius Anyim, former Senate President Ken Nnamani, former governor Orji UzorKalu and many others. While I was watching the videos, I wondered whether my elder brother, Dr. Ethelbert Okere will write something about ChiefIwuanyanwu as he had previously done to mark his birthdays.
Unexpectedly, I got a WhatsApp massage from my brother, almost telepathically or as if he was reading my mind, informing me that he is writing a book on "Nnayi Ukwu Iwuanyanwu" (Our Leader) as he fondly calls him as mark of honour, on his birthday. He said that it will be unveiled during his 80th birthday anniversary on September 4. The result of his effort is the book, "Emmanuel Iwuanyanwu: Another Angle To A Big Story," which will be unveiled at Chief Iwuanyanwu's 80th birthday celebration. He also revealed that Governor Hope Uzodinma wrote the Foreword of the book and that he had gone to Lagos to interview Chief Henry Udukomaiya, the first Managing Director/ Editor in Chief of Champion Newspapers Ltd. I did not bother to call him but rather replied the message expressing my happiness for the wonderful idea because Chief Iwuanyanwu deserves the honour as both of us havebenefitted from him especially through his Champion Newspapers Ltd.
Apart from both of us, a lot of people have benefitted from him as alluded earlier on. He has touched the lives of many men, women and families in various ways. From Champion Newspapers Ltd perspectivewhere I had worked from the position of Office Boy to Features Desk under Mr. Andy Ike Ezeani and in the Editor's Office under Mr. Emeka Omeihe, I had seen how many people from various tertiary institutions were trooping into the office looking for opportunity to do industrial training (IT) and were given the opportunity and most of them who had flair for writing were later employed.
Champion Newspapers Limited were like the spring board that many people have used to rise to stardom. A lot of them that I know and worked with have gotten political appointments while in Champion Newspapers. I recall the first Editor of the newspaper, Mr Emma Agu who was appointed the Chief Press Secretary to Chief Ernest Shonekon, thenHead of Interim Government in 1993. Two of my bosses in Champion Newspaper, Mr. Emeka Omeiheserved as Special Adviser (SA) Media to former Governor Achike Udenwa and also as SA when Udenwa was appointed Minister. Mr Andy Ike Ezeani also served as Chief Press Secretary to former INEC Chairman, Prof. Maurice Iwu. Presently both Hon. Mbadiwe Emelumba and Mr. OguikeNwachukwu are holding sway in Imo State under the government of Senator Hope Uzodinma as Commissioner and Chief Press Secretary /Media Adviser respectively and the list is endless.
It is a statement of fact that since the return of democratic rule in Nigeria in 1999 or even during the military era there is no way that you will not find Champion Newspapers products holding some strategic positions across the country at the federal, state or local government levels. It is all thanks to
Chief Iwuanyanwu. I commend my elder brother, Dr. Ethelbert Okere for coming out with this wonderful book to honour our chairman, leader and elder statesman Chief Emmanuel Iwuanyanwu. I congratulate Chief Iwuanyanwu for God's grace in his life to reach 80 years old on earth in a country where life expectancy is only 54 years. It can only be God!
As Chief Iwuanyanwu, marks this auspicious occasion of his 80th birthday, it is an opportunity to celebrate a man who has lived eighty grand years, teaching so many lessons, touching so many livesand impacting everyone who came across him. My prayer for him on this important occasion is, " The Lord bless you and keep you; The Lord make His face shine upon you, and be gracious to you; The Lord lift up His countenance upon you, And give you peace, now and forevermore."
Happy Glorious Birthday to AhaejiagambaNdigbo!