News
Clubs feast on Samson Siasia Stadium without maintenance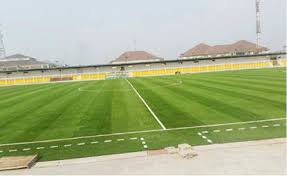 The lush green Samson Siasia Stadium turf in Yenagoa may suffer some decay, no thanks to the way it is being used at the moment albeit without proper maintenance.
This much was disclosed yesterday by the Chief Executive Officer of Monimichelle, Ebi Egbe whose outfit constructed the turf.
Egbe who raised alarm over the way the arena is being used noted that as many as eight teams currently train at the place on a daily basis, even as he insisted that the traffic is simply too high.
The Bayelsa born soccer buff in a statement said: "The Samson Siasia Stadium fusion pitch in Yenagoa is the most abused pitch in the world. Over eight teams training and playing on it everyday with zero maintenance."
Egbe noted that low traffic and maintenance are key if a turf is to remain in good shape for matches.
"You can't over use a particular pitch and expect it to remain in perfect shape, especially when the turf is not being maintained," Egbe stated, even as he regretted that Yenagoa has no other football pitch outside the Samson Siasia Stadium.