News
Cool Global Boss Bags TAMPAN Honour, Offers Free Visa Counsel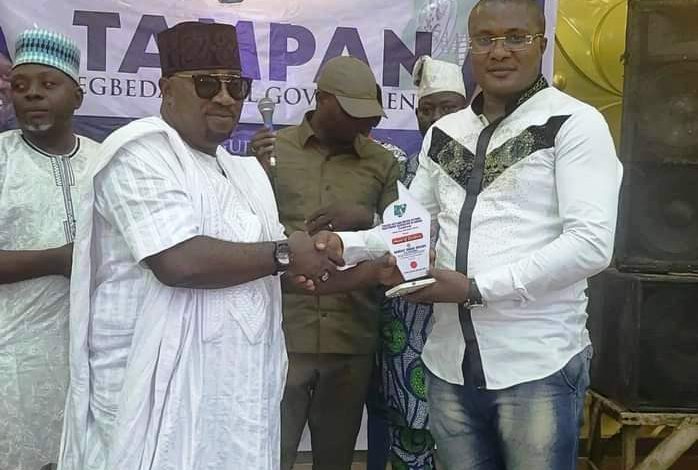 Photo: A veteran Nollywood actor, Muyiwa Adegoke, also known as Londoner (left) presenting an award to the Cool Global Interlinks boss, Alh. Hamzart Kolade Oba.
The Chairman CEO of Cool Global Interlinks, Alh. Hamzart Kolade Oba has bagged a distinguished award of recognition for his continuous support to the Theatre Arts and Motion Pictures Practitioners Association of Nigeria (TAMPAN) Oyo State chapter, when the body recently celebrated its annual week and inauguration of new executives.
The visa & immigration matters expert, Kolade Oba was among the dignitaries recognized for their huge support in sustaining the Theatre Arts and Motion Pictures Practitioners in Nigeria, while the Cool Global Interlinks boss in his remarks offered free visa counsel.
Kolade Oba said many foreign countries are regularly reviewing their immigration laws in order to stiffen conditions for migrants. As a result, many Nigerians have been humiliated in an effort to get visas or gain entry into those countries, adding Nigeria also needs to enforce its own immigration laws while he harps on the need to adopt reciprocity rules.
While speaking on why the British governments review their skill migrant programmes, Kolade said "the one for visa lottery is targeted to Nigeria and some other few countries. The U.K immigration laws are in a state of flux, they are always reviewing. The review made by the United Kingdom is not targeted at Nigerians. It is a review that seems to have global application.
"There are different platforms before now with which you can migrate to the United Kingdom to live and to work. But you found out now such platforms are no longer in existence, they have been removed. For example, we have what is called the highly skilled migrant programme (HSMP) that enables people with a minimum of certain levels of qualification to apply to live in the U.K and work.
"I'm aware that thousands of Nigerians benefited and lawfully migrated to the UK under that platform. You have an adaptation programme for our nurses. There is one for our doctors. Presently, it is extremely difficult for a qualified Nigerian to migrate to the United Kingdom because of your special qualification. Qualifications no longer count as a platform for which you can migrate", said Cool Global boss.
Photo: A veteran Nollywood actor, Muyiwa Adegoke, also known as Londoner (left presenting an award to the Cool Global Interlinks boss, Alh. Hamzart Kolade Oba