News
Covid-19: Catholic Bishop warns promoters of conspiracy theories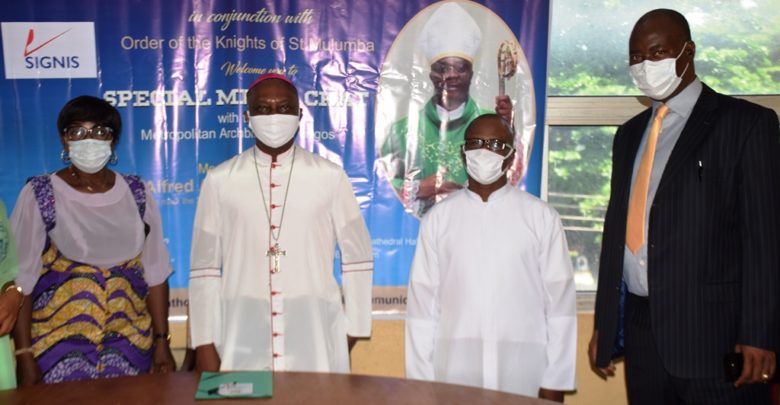 L-R: Lady Neta Nwosu, President, SIGNIS, Archdiocese of Lagos; Most. Rev. ( Dr.) Alfred Adewale Martins, Archbishop of the Metropolitan See of Lagos; Rev. Fr. Anthony Godonu, Director, Directorate of Social Communications, Archdiocese of Lagos and Prince Soji Olagunju, Chairman/CEO, Lumen Christi Television Network at the Media Conference with the Catholic Archbishop of Lagos, held on Wednesday in Lagos.
The Catholic Archbishop of Lagos, Most Revd. Alfred Adewale Martins  has cautioned promoters of  some conspiracy theories in the fight against coronavirus disease (COVID-19) to be careful of the stories they build around the Catholic Pontiff, Pope Francis and restrain from referring to him as anti-Christ.
Addressing journalists in Lagos on the 54th World Communications Day, Archbishop Martin's said it was preposterous for a minister of the gospel to describe the head of over a billion Christians as an anti-Christ.
According to him, "that conspiracy theory is way beyond reason, stressing that those who are pushing it must be very careful not to dabble into areas outside their areas of competence."
The archbishop commended the Lagos State government for the prompt action taken immediately COVID-19 was discovered followed by the Federal government, but quick to point out that the situation also proved that the state of health delivery in Nigeria has been far below average.
He made reference to the Prime Minister of United Kingdom, Boris Johnson who when he was infected with the virus only went to the hospital within his domain and was successfully treated, a thing that Nigeria government should emulate.
He said this Wednesday, during a Special Media Chat organized by the Directorate of Social Communications, Catholic Archdiocese of Lagos ahead of 2020 edition of the World Day of Communications coming up on Sunday, May 24, 2020, a day set aside annually by Pope Francis to celebrate with the media practitioners all over the world and to encourage them on their pivotal role of helping to build a better world which took place at Holy Cross Cathedral Hall, Lagos.