Religion
Covid-19: Don't just wash your hands, say the Lord's Prayer always -Adewale-Martins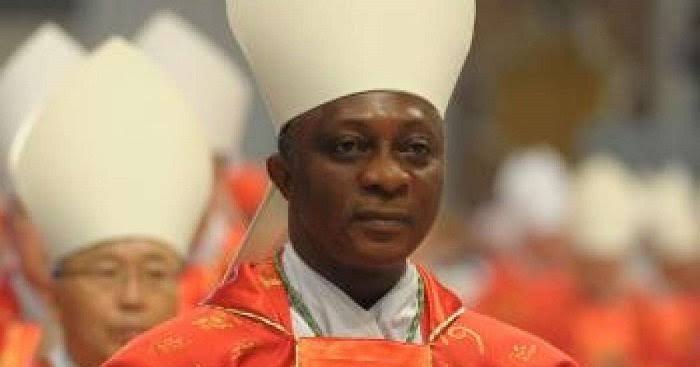 By George Aluo
Catholic Arch Bishop of Lagos, Most Rev. Alfred Adewale-Martins has charged Catholic faithful to always say the Lord's Prayer while washing their hands as part of the health protocols to avoid Covid-19.
Adewale-Martins while delivering his homily today at Holy Cross Cathedral, Lagos pointed out that it takes about 20 seconds to say the Lord's Prayer, the same duration in which people are advised to use in washing their hands.
"Do you know that you can use the opportunity of washing your hands to pray also? It takes about 20 seconds to say the Our Father. Use the time for washing your hands productively by saying a prayer," Martins said.
The prelate who urged the faithful not to be afraid said those who believe in Christ have no reason to worry about anything.
Quoting from the scriptures the Archbishop pointed out that Jesus in Mathew's gospel Chapter 10 told his Apostles not to be afraid, repeating it three times as a way of re assuring them that he meant what he was saying.
"Just like the Apostles, we don't need to be afraid…all we need do is take our worries to Jesus and he would weather the storms in our lives."
On the continued closure of the places of worship by Lagos state government, the Archbishop while calling for a review of the decision, urged the faithful to keep the flame of their faith alive, drawing strength from the words of St. Paul that "all things work together unto good for those who love God (Rom. 8:28)."
He stressed that the Church shall not relent in her prayers for God's intervention in the fight against coronavirus.