Politics
Day Shekarau stole the show at Ritman University maiden convocation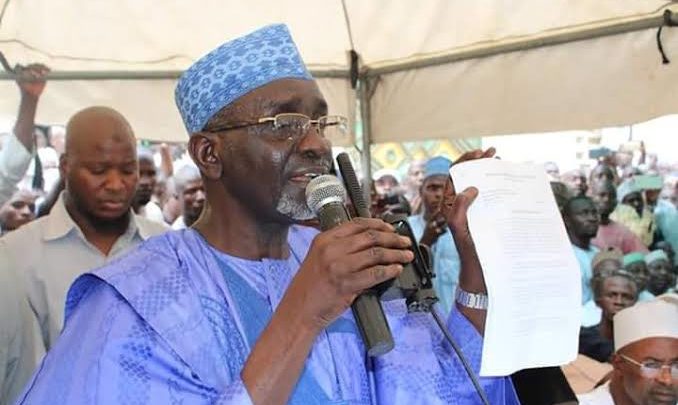 By Athan Agbakwuru
The oil-rich South-South geopolitical zone of Nigeria, on Saturday
30th November, 2019, stood still as Ritman University, RU, Ikot Ekpene
in Akwa Ibom State held its first convocation ceremony, since its
inception in 2015. The colourful epochal event witnessed the award of
honorary Doctor of Science (D.Sc Honoris Causa) on an eminent
Nigerian, Mallam Ibrahim Shekarau, the distinguished Senator
representing Kano Central District at the 9th National Assembly and
Chief Daniel Afiakurue, an educationist and entrepreneurial giant from
Akwa Ibom State.
In fact, it was a roll-call of crème de l'crème of the nation. The
ceremony had several dignitaries that made the intimidating entourage
which accompanied Senator Shekarau to the convocation. Among the
dignitaries were: Governor Udom Emmanuel of Akwa Ibom State, Alhaji
Abdullahi Ganduje, Governor of Kano State, Senator Godswill Akpabio,
Minister of Niger Delta Affairs; Chancellor, Ritman University, Air
Commodore Idongesit Nkanga, former Military Governor of Akwa Ibom
State, Senator Kabiru Ibrahim Gaya, Senator Ita Enang, Senior Special
Assistant to the President on Niger Delta Affairs, Senator Anietie
Okon, Senator Effiong Bob, Mr Moses Ekpo, Deputy Governor of Akwa Ibom
State and Dr Emmanuel Ekuwem, Secretary to State Government, SSG, Akwa
Ibom State, several other members of the National Assembly, royal
fathers, captains of industry and religious leaders
Also around to cheer up the distinguished Kano-born doctoral degree
award recipient, were traditional dance troupes from both Kano State
and Akwa Ibom as well as family members, teeming political associates
and aides, well wishers and colleagues who came from as far as Kano
State and Abuja to give honour to whom honour is due.
In his welcome address, Distinguished Prof. Celestine Ntuen, the
premier Vice Chancellor revealed that Ritman University (RU),
explained that the institution is an award-winning, fully accredited
entrepreneurial university in Ikot Ekpene, Akwa Ibom State which was
approved by the Federal Executive Council on 25th February, 2015 and
granted National Universities Commission (NUC) provisional licence on
5th March, 2015.
According to him, "the first set of students commenced lectures on
23rd November of that same year with three faculties – Humanities,
Social and Management Sciences, Natural and Applied Sciences – as well
as the Directorates of General Studies and Entrepreneurship."
Prof. Ntuen who was appointed the first VC of RU after a meritorious
career spanning over 31 years and a stint as Vice Chancellor of North
Carolina Agricultural and Technical State University, USA, further
hinted that the University received a full licence to operate as a
private university in April 2019 with all courses offered in RU
accredited by the NUC. He listed the academic programmes to include,
History and International Studies, English & Literary Studies,
Biological Sciences, Chemical Sciences, Computer Science, Mathematics,
Physics, Accounting, Banking and Finance, Administration, Industrial
Relations & Personnel Management, Economics, Political Science &
Public Administration, Sociology, Cyber Security, Software
Engineering, Mass Communication, Biochemistry, Industrial Chemistry
and Microbiology.
It was further disclosed that the university was founded by Senator
Emmanuel Ibok Essien and his partners: Engr and Mrs Sunday Umoh with
Senator Effiong Bob, erstwhile Pro-Chancellor, University of Benin as
the Chairman of RU Board of Trustees while the serving Minister of
Niger Delta Affairs, Chief Godswill Akpabio is the Chancellor.
Others include; Prof. Nsongurua Udombana, the Pro-Chancellor and
Chairman of Council with other reputable Professors like; Prof Joseph
Andy(former Provost, College of Medicine at the University of
Calabar), former Vice Chancellor, University of Uyo, Prof. Akaneren
Essien and Comfort Ekpo as members of the Board and Council of the
university.
Ritman University, it was also learnt, enjoys robust working
partnerships with reputable institutions at home and abroad, including
academic exchange programmes with Greensboro College and Guilford
College in North Carolina, USA. RU has a pan-Nigerian population, with
students from Abia, Anambra, Bayelsa, Cross River, Delta, Edo, Imo,
Ondo, Osun, Oyo, Plateau, Rivers and Akwa Ibom States. Impressed with
the university's facilities and capabilities after due inspection, the
Federal Government enlisted RU as a training institution for students
on scholarship of the Presidential Amnesty Programme.
The Vice Chancellor recounting his experience in the first four years
of the institution remarked that RU had won the following awards;
"West African Youth Parliament's Best Private Educational Institution
of the Year in 2016; Arewa Consultative Youth Assembly's Most
Outstanding Private University in Nigeria, 2016; Award of Excellence
by NTA Channel 12; Institutional Merit Award, by The Investigator
Nigeria. Its female students won the Debate Competition at the Women
Supporting Women National Conference in 2017, and its History students
came second at the University of Uyo Inter-university Quiz in 2016."
Programme of events reached its crescendo when Senator (Mallam)
Ibrahim Shekarau was called up for the award of and an enriched but
concise citation on him read by the University Orator, Dr Udo Ndata,
Dean Faculty of Humanities thrilled with exhilarating oration. He
began by recalling that the senator was born in Kurmawa Quarters in
Kano City on the 5th of November 1955. As the citation began and
ended in cheers and praises, it was a standing and clapping ovation
all through for the distinguished senator who the audience largely
hailed with countless accolades in practical demonstration of their
approval of his choice for the prestigious award.
His words, "He(Senator Shekarau) attended Makama Primary School,
Aminu Kano Commercial College, and Ahmadu Bello University, Zaria
(ABU) where he graduated with a degree in Mathematics Education in
1979. He taught in various institutions including Madonna Boys High
School, Etiti, Imo State and Government Technical College, Wudil. He
also served as Principal in various institutions including Government
Secondary School, Hadejia, Government College, Birnin Kudu, Gwammaja
Secondary School, and Rumfa College Kano. He was also two term
President of All Nigeria Conference of Principals of Secondary
Schools, ANCOPSS and Chief Lecturer(Mathematics), Kano State College
of Arts, Science and Religious Studies. Senator Mallam Ibrahim
Shekarau also held various positions in Kano State Civil Service.
"These include Director Planning Research and Statistics, Ministry of
Education Headquarters, Permanent Secretary, Ministry of Water
Resources, Rural and Community Development. Permanent Secretary
Administration and General Services, Cabinet Office. And Permanent
Secretary, Civil Service Commission.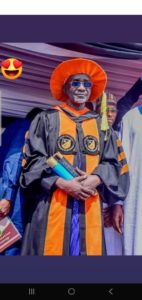 "Shekarau was a two-term Governor from May 2007 to May 2011 and
initiated some large scale development projects in Kano State. He also
hosted some world leaders like the former German Chancellor Schroeder,
Prince Charles, among others. He served as the Minister of Education
in the Federal Republic of Nigeria from July 2014 to 2015. He
contested and won a senatorial seat in Kano under the All Progressive
Congress (APC) in the Presidential and National Assembly elections
held on Feb. 23 2019."
In a captivating and thought-provoking acceptance speech after being
decorated with the award, Senator Ibrahim Shekarau, CON, PEN, Sarduana
Kano, expressed gratitude to the university for the honour done him
saying he wholly accepts it with utmost humility.
His words, "It is my hope that, as a recipient of this degree, I will
not only be worthy of the honour bestowed upon me, but will also be
able to uphold the dignity and reputation of this University. I thank
the organizers of this occasion for giving me the privilege to deliver
an address to show my appreciation for this honour which I feel, I
hardly deserve.
"Distinguished ladies and gentlemen, we are very aware that the
well-being of mankind, both now and in the future, depends heavily
upon knowledge; and I am glad to note that in its 4 years of
existence, Ritman University has laid a rock-solid foundation for not
only developing, but also inspiring young intellectual minds to
appreciate, create and to own knowledge-based systems and processes.
"Like I did severally somewhere in the past, I would like to use this
opportunity, as a humble teacher, to share with you some thoughts I
have regarding a critical issue confronting this great nation of ours
at this point in its history. I feel most privileged that I am doing
so at Ritman University, an institution, though young, but one that
possesses great credentials and the potential of excelling its
contemporaries.
"Ladies and gentlemen, the most critical challenge confronting this
country is how we can rescue our people from poverty and
underdevelopment, and help them recover their dignity. In my opinion,
I doubt if there is any other challenge as compelling and consuming
for Nigeria as this. I also believe that nothing degrades the dignity,
the image, and the influence of a human being and a nation more than
poverty. It is said that power and influence stem from various
factors, but nothing is more important than economic prowess that is
energized by knowledge and technological capacity. A poor nation is a
weak nation, and it is always susceptible to the domination and
marginalization by wealthier powers.
"That poverty and underdevelopment are dominant features of Nigeria is
only too well known. Economically, Nigeria ranks poorly in terms of
overall competitiveness. More than half of the population lives on the
meagre amount of less than 2 US dollars a day. Along with poverty and
underdevelopment, come poor living conditions, illiteracy and
sickness. This is an astonishing fact considering that Nigeria is one
of the largest suppliers of oil – a major source of economic wealth –
and is also among the leading countries that sits on large human and
natural resources in the world.
"As leaders, there are many things we may need to do for them: they
may need land to farm upon; water for irrigation; boats and gear to
fish; jobs to earn a living for themselves and their families; or
micro credits to start-up businesses. But there is nothing, nothing
more important we can do for them than to provide them with quality
education. For millions, education has been their salvation. This has
been the experience in every country where poverty has been
dramatically reduced. This has been the experience of Kano State,
during my days as governor (2003 – 2011), where we committed ourselves
to human development as our poverty eradication strategy, because, we
learnt from experience that our development and economic prospects are
tied to the quality of our human capital.
"Ladies and gentlemen, if we want to rid this country of poverty and
underdevelopment and take the high road to progress, the more
fortunate among us must get together and help the others. At this
point, I therefore want to stand on behalf of the pioneer graduating
students of this University to make a special appeal to the various
levels of leadership of this country to find the political commitment
to allot the necessary weight of priority for developing the capacity
of our people, and allocate for it a higher proportion of our budgets.
For, it is only the investment in human capacity, investing in our own
people that will bring us the greatest rewards and happiness. And
there is no better ingredient for the development of quality human
capital for nation-building than quality education.
"Before I round up this acceptance speech, let me acknowledge and
appreciate the quest of the authorities of this august University to
establish a world class computer centre. In a fast developing world,
where all forms of endeavour are rapidly becoming computer-compliant,
universities, as havens of learning and research, owe the society a
duty to embrace and adopt modern methodologies of instruction offered
by Information and Communication Technology (ICT) to produce
enlightened citizenry. ICT offers enormous possibilities for
individualizing learning, and for giving students more responsibility
and autonomy. The vision of the authorities of this University to
establish a computer centre therefore, is apt and timely. Towards
this, I have consulted with my friends and political associates, and
we have agreed to be part of this history-making. In not too long a
time after this convocation, I will consult with the authorities to
discuss how we can contribute our widow's mite.