News
Don't drag us into your naira war with FG, Edo State Governor, Obaseki tells El Rufai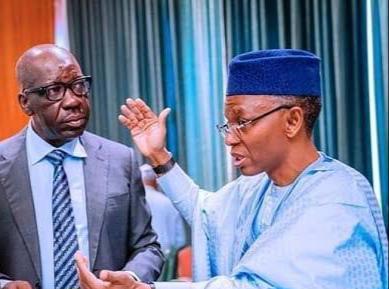 By George Aluo
Edo State governor, Godwin Obaseki has told his Kaduna state counterpart, Mallam El Rufai not to drag the good people of Edo State into his naira war with the Federal Government.
Obaseki in a statement issued by his Media aide, Crusoe Osagie stated in very clear terms that El Rufai can not speak for Edo people and the 36 state governors.
Obaseki's statement reads in part…
"The Edo State Government distances itself from the comments and moves by the Governor of Kaduna State, Mallam Nasir El-Rufai, and some other governors against the currency swap policy of the Central Bank of Nigeria (CBN),"
"We are not a party to the suit instituted by the Governments of Kaduna, Kogi, and Zamfara States against the CBN's policy and take exemption to the claim by the Kaduna State Governor that the move by the three governments is backed by Nigeria's 36 State Governments."
"The currency swap policy, which is intricately linked to the cashless policy of the CBN, is aimed at promoting financial inclusion; preventing inducement of voters in elections; tackling corruption and money-laundering and checking ransom payments among other cash-based financial infractions."
Obaseki noted that the state government acknowledges the difficulties that have arisen from the cash swap policy and empathises with all Nigerians over the challenges faced with accessing the new notes.
"While this situation is being managed by the concerned authorities and relief being sought by the authorised agencies, it is disingenuous for a suit to be filed by three governments and then inferences are made to the effect that it is the entire state governments in Nigeria that sued the Federal Government and that they all stand against the CBN's policy," the statement added.
Continuing, Obaseki stressed…"The Kaduna State Governor does not speak for us in Edo State and we urge for guided utterances and inferences in such critical matters, especially in the heat of the political season.
"The Edo State Government reiterates its commitment to the good people of the State and assures that it will continue to work assiduously to protect lives and properties and provide the conducive environment for all to thrive and live life to its fullness."