Sports
Eagles can make real impact at 2019 AFCON -Ighalo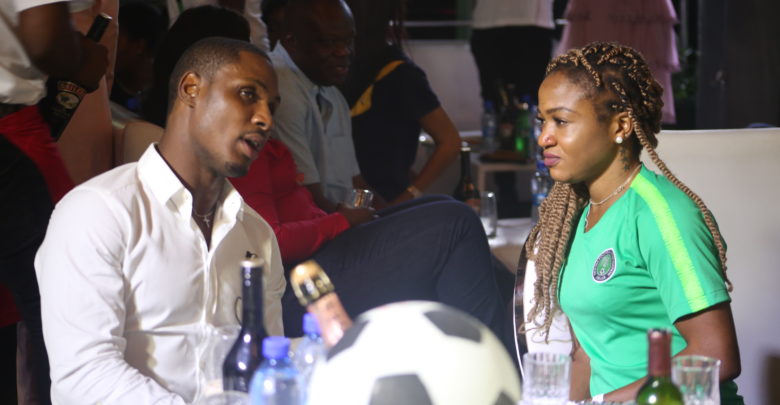 Photo: Odion Ighalo (left), with Super Falcons' Francisca Ordega, at the NFF Sponsors' Night on Thursday.
Ace forward Odion Jude Ighalo has expressed confidence that three –time champions, Super Eagles of Nigeria can make a serious impact at the 32nd Africa Cup of Nations scheduled for next year summer.A five –goal haul by the China –based striker over three days, against the Mediterranean Knights of Libya in the month of October, propelled the Super Eagles to top place in Group E of the qualification series, with the score draw away to South Africa in November eventually sealing a place at the finals.
Africa's football –governing body, CAF is set to name a new host nation on 9th January 2019 after withdrawing the hosting mantle from Cameroon. But Ighalo says anywhere the finals are staged (South Africa and Egypt are the candidates), Nigeria would be ready to contest strongly for the diadem.
"Whether the championship is held in Egypt or South Africa, we will be ready. We have the advantage of having been together for sometime now, with the bulk of the team having played at the World Cup. Qualifying for the AFCON has also made us believe very much in our ability and of course, the Nigerian Spirit is always there to propel us in difficult times.
"We are all aware of what Nigerians expect from us. We will prepare hard and strive to deliver," Ighalo said as he savoured the occasion when the Nigeria Football Federation celebrated its sponsors and partners in Lagos on Thursday night.
President of the Nigeria Football Federation, Mr. Amaju Melvin Pinnick, used the occasion to pinpoint Ighalo as the very definition of patience, perseverance and fortitude, whose experience is worthy of study by the average Nigerian youth seeking success but confronted with challenges.
"Ighalo has become the metaphor for success on the back of perseverance, continued improvement and patience. For several months he was looking to score for the National Team but it did not happen. He never gave up, and the coaches kept their belief in him. Then, in only three days, he scored five goals to become the leading scorer in the 2019 AFCON qualification series. There is nothing drive and doggedness cannot achieve."
Ighalo presently has six goals in the 2019 AFCON qualifiers. His first goal was in the Matchday 2 game away to Seychelles in September, which Nigeria won 3-0.
The final match of the qualification series, an academic exercise against Seychelles in Nigeria on 22nd March 2019, will rather serve as part of the preparation for the 2019 finals.
Nigeria won the Africa Cup of Nations at home in 1980, and on away ground in Tunisia in 1994 and in South Africa in 2013.