Sports
Edo wins invitational wrestling championship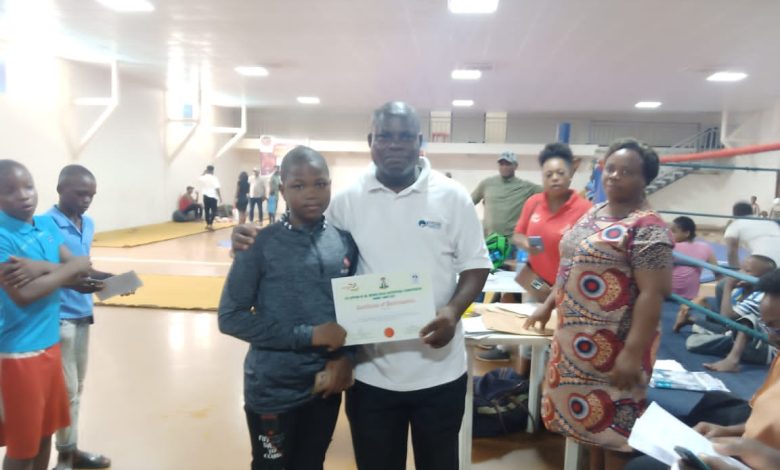 By Ifeanyi Eduzor
Host state, Edo has won the second edition of its invitational amateur wrestling championship held at the Gymnasium hall of Samuel Ogbemudia, Stadium, Benin city, the Edo State capital.
The state garnered a total of 11gold, 6 silver and 2 bronze to be crowned winners of the tournament which held from Monday, August 8-10, 2022.
Anambra State came second with 3gold and 3silver with Kogi State coming third with 3gold, 1silver.
Also Morris Atula Wrestling Club took the fourth position with 2 gold, 2silver and a bronze just as Onyebuchi Wrestling Club came fifth with 1gold, 2silver and 2bronze with Delta State coming last with 1gold, 1 silver and 2 bronze medals.
Athletes fought in both the male and female senior and cadet categories with hundreds of fans routing for action as the fights lasted.
In the men 72kg Greeco-Roman style, Bright
Irobekham from Edo state won gold followed by Nnaemeka K.C. from Anambra who took the silver while Joseph Anthony from Delta won Bronze.
Also Dick
Enenibodi from Edo state won gold in the 60kg while ThankGod Destiny from the Atula Wrestling Club won silver.
for the senior female category, Nwoye Ifeoma from Anambra finished first to claim the Gold Medal while Juliet Amakoro from the Atula Wrestling Club finished 2nd to win the silver medal and Kate Umunna from Edo State claimed Bronze after finishing 3rd.
In the 55kg, Ozioma Joseph of Delta State emerged victorious followed by Rita Odede of Edo State and Ayo Esewi of Onyebuchi Wrestling Club who came second and third respectively while in the 57kg, Faith Esosuokpo finished first to win gold.
The tournament also saw thrilling action in the cadet category where Olaye Mattew from Kogi State finished first in the 41kg followed by Destiny Isa of Edo state and Oriakhi Kelvin from the Onyebuchi Wrestling Club.
Also In the cadet 44Kg, Akore Surly of Onyebuchi Wrestling Club won gold, Godspower Steven won silver while Kelvin Erhunwerie won bronze.
In the male Cadet 33kg event, Kingsley Tonye of Edo State emerged winner followed by
Atonwa Chukwuebuka representing Anambra State and Alabi Osaretin of Kogi State.
The 30 kg event was won by Iho Uhonoma of Kogi State followed by Osasuyi
Osamwonyi of Edo State and Adodo Abraham.
Speaking while presenting medals to the athletes, chairman of the Edo State Wrestling Association Morris Atula said the tournament was geared towards ensuring the full development of young people through the 'catch them young' project which the tournament represents.
"This tournament is aimed at providing
strategic/ supportive networks and initiatives for character development, entrepreneurial activities, sports and community-based civic initiatives which is necessary for youth development", he said.
Atula who is a former world Light Heavyweight Champion further stated that the Edo state invitational wrestling tournament is capable of producing future champions in the mats man game from this part of the world.
"The objective of sports activities is not only to promote the potential of young people but also to equip them with business skills as well as acquaint them with social, economic and environmental issues.
"This holistic approach aims to empower young people to assume a responsible role in their communities in the future. "Through sports, many bridges can be built which promote collaboration and stimulate responsibility in communities because sport is associated with an indisputably high social function like community leadership, empowerment and sustainable development and In this way, newly acquired skills and talents can be reinvested in the community and young people must be empowered through this project," noted one of the pioneers of professional Wrestling in Nigeria.
Recall that the first edition which saw Ogiemwonyi Osaretin emerge as the overall winner and face of the championship took place last year accommodating only wrestlers from Edo State, but this edition becomes bigger with six teams and four states taking part.