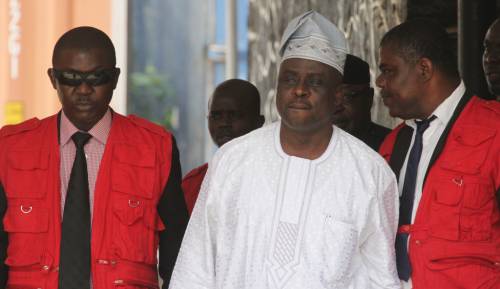 Air Marshal Amosu being escorted by EFCC operatives
The Economic and Financial Crimes Commission (EFCC) has re-arraigned a former Chief of Air Staff, Air Marshal Adesola Amosu (rtd), for an alleged fraud of N21.4 billion.
Amosu, alongside Air Vice Marshal Jacob Adigun and Air Commodore Olugbenga Gbadebo, was re-arraigned before the Federal High Court in Lagos on a 13-count charge on Tuesday.
The trio were first arraigned in June 2016 alongside eight firms before Justice Mohammed Idris
Their re-arraignment before Justice C.J. Aneke followed the elevation of Justice Idris to the Court of Appeal. As a result of Justice Idris' elevation, Amosu's trial, which has lasted for more than two years in court, is starting afresh before Justice Aneke.
As the case starts afresh, the EFCC has amended the charge sheet by dropping the names of the eight firms, which were joined as defendants in the earlier charge sheet.
Prior to the re-arraignment of the defendants, in a ruling, Justice Aneke rejected the prayer by the defence counsel that that the eight firms, whose names were removed from the charge sheet, should first be discharged and acquitted before any further action.
In his ruling, Justice Aneke faulted the argument of the defence counsel and directed that the amended charges be read to Amosu, Adigun and Gbadebo. The trio pleaded not guilty to the charges.
In the first count, the EFCC alleged that the defendants conspired among themselves "to covert a total sum of N21,467,634,707.43, property of the Nigerian Air Force, which sum you reasonably ought to have known forms part of proceeds of your unlawful activities, to wit: criminal breach of trust".
The anti-graft agency alleged they diverted the N21.4bn using several firms.
The prosecuting counsel for the EFCC, Rotimi Oyedepo, said the defendants committed the offence on March 5, 2014, adding that they violated Section 18(a) of the Money Laundering (Prohibition) Act, 2011 and were liable to be punished under Section 15(3) of the same Act.
Justice Aneke allowed them to continue with the bail granted them in 2016 by Justice Idris. He adjourned till Wednesday for continuation of trial.
Meanwhile, the EFCC is in moves to secure a permanent forfeiture order on a sum of N2.2bn recovered from Amosu. A similar order is being sought on N190,828,978.15 recovered from Gbadebo.
The anti-graft agency filed a final forfeiture application for the funds before Justice Mojisola Olatoregun of the same court.
Justice Olatoregun has adjourned ruling on the application till December 3, 2018.