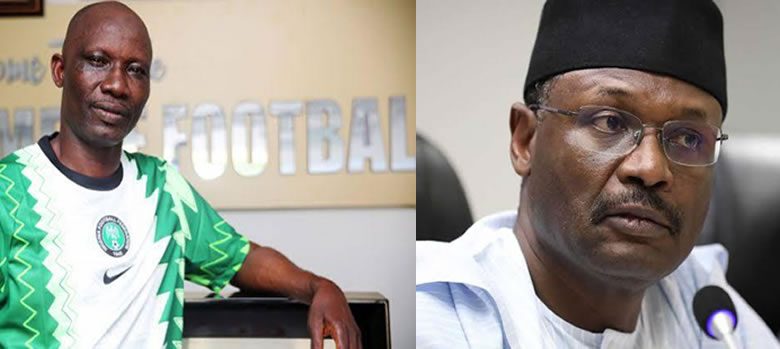 By George Aluo
Nigerians were, no doubt, not happy with the failure of Ladan Bosso and his boys to reach the final of the just concluded CAF U-20 Nations Cup in Egypt.
After beating several opponents silly at home by sometimes, very scandalous margins ahead of the tournament, many had thought the Flying Eagles would go to Egypt, see and conquer with ease.
Coach Ladan Bosso and his boys raised the hope of many Nigerian football stakeholders that Egypt was a done deal. That they would storm the land of the Pharaohs annihilate every opponent and return home with the coveted trophy.
Many had concluded that new NFF president, Ibrahim Gusau was going to kiss his first trophy since taking charge in Benin late last year after Amaju Pinnick was shown the exit door.
But to the consternation of many, Bosso and his boys only managed to secure a bronze after losing to Gambia in the semi final. As they say in local parlance, "at all at all naim bad."
While some Nigerians are still writhing in pains over the failure of the Flying Eagles to bring home the ultimate prize, many Nigerians take consolation in the fact that Bosso and his boys to say the least, performed better than Mr Mahmoud Yakubu's Independent National Electoral Commission (INEC).
Flying Eagles at least had a podium finish in Egypt, but at home INEC failed to rise to the occasion in the February 25 Presidential election. If INEC had gone to an international competition to represent Nigeria, the commission, given what they scored from the array of international observers that witnessed the election they conducted would not have gone beyond the group stage.
Most painful is the fact that while INEC got billions of naira of tax payers money to conduct a free and fair election, Bosso and his poor lads got little or nothing from the nation's soccer governing body, NFF.
In fact, there is even a yet to be substantiated allegation that some of the boys we took to Cairo paid as much as two million naira to only God knows who, to make the squad.
So, when people say Bosso should step aside after failing to deliver, I laugh in vernacular.
While those who failed the country at the biggest stage are yet to resign, I would commend Bosso and tell him to "carry go" ahead of the FIFA U-20 World Cup in Indonesia.
If there is any Nigerian today that needs to quit his job for failing the nation, it is Mr. Mahmoud Yakubu and not Bosso.
Like the Flying Eagles, INEC raised the hope of Nigerians that our votes would count on February 25.
And after burning billions of naira on BVAS and others, all that we saw was a commission that sat down in Abuja announcing results that was manipulated without the use of BVAS.
Yakubu without shame said INEC server suffered a glitch. Since INEC server suffered a glitch on a day it was needed like blood, what Yakubu should have honorably done is to apologize to Nigerians and throw in the towel rather than sit down at the Abuja collation center announcing results that virtually all the parties except APC has accepted.