Sports
Egypt 2023: CAF appoints Libyan referee Ahmed for Nigeria, The Gambia duel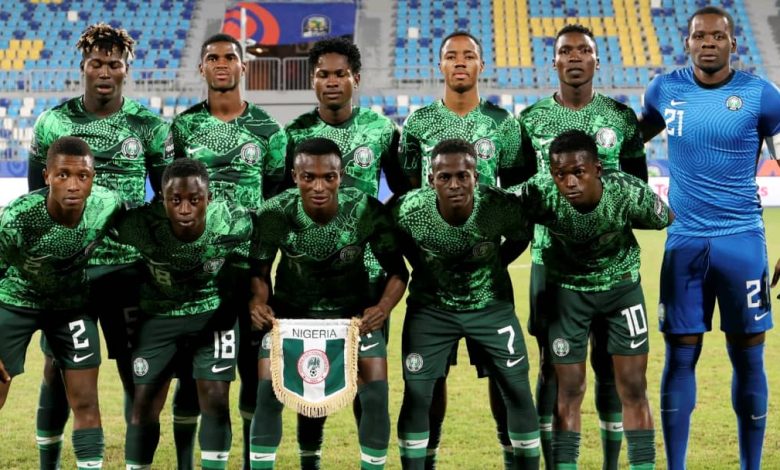 The Confederation of African Football has appointed Libyan official Abdulrazg Ahmed as referee for Monday evening's Africa U20 Cup of Nations clash between Nigeria and The Gambia at the Cairo International Stadium.
Hamza Bouzit, who is from Algeria will be the assistant referee 1, while Nigerien official Abdoul Moctar Saley and Jalal Jayed from Morocco will serve as assistant referee 2 and fourth official respectively.
Boutane Said from Comoros will be in the role of match commissioner and Imade El Fahouss from Morocco will be general coordinator.
Ahmed was fourth official when the Flying Eagles defeated Uganda in Thursday's quarter-final at the Suez Canal Authority Stadium, and Jayed was also involved when the seven-time champions knocked Mozambique 2-0 at the same venue on Saturday, 25th February.
The Gambia dismantled South Sudan 5-0 at the Harass El Hedood Stadium in Alexandria to pick one of Africa's tickets to the FIFA U20 World Cup finals in Indonesia, and is one of only two teams to have won all their matches at the 17thAfrica U20 Cup of Nations ongoing in Egypt.
Yet, Nigeria's Coach Ladan Bosso is not fazed by the credentials of the opposition and would rather focus on the strength of his own team and its capacity to upturn the apple cart at the familiar Cairo International Stadium.
"Previous results will not determine what happens in our semi-final match against The Gambia. They have been in great form and my boys have also recovered well and are in their elements. It will be a great match but I believe in my team and we are confident of playing in the Final on Saturday."
In their four matches so far at the tournament, the Flying Eagles have won three matches and lost one, and have scored four goals and conceded one. On their part, the Young Scorpions have scored a total of nine goals, conceding none.
The Scorpions have played all their matches at the Harass El Hedood Stadium in Alexandria, while the Flying Eagles have felt the turfs of both the Cairo International Stadium and the Suez Canal Authority Stadium.
ROAD TO THE SEMI-FINAL
Group A
Senegal I Nigeria 0
Nigeria 1 Egypt 0
Mozambique 0 Nigeria 2
Quarter Final
Uganda 0 Nigeria 1
Group C
The Gambia I Tunisia 0
Zambia 0 The Gambia 2
The Gambia 1 Benin Republic 0
Quarter Final
The Gambia 5 South Sudan 0