News
Emulate Zik, Awolowo, Balewa, Uzodinma tells Nigerian youths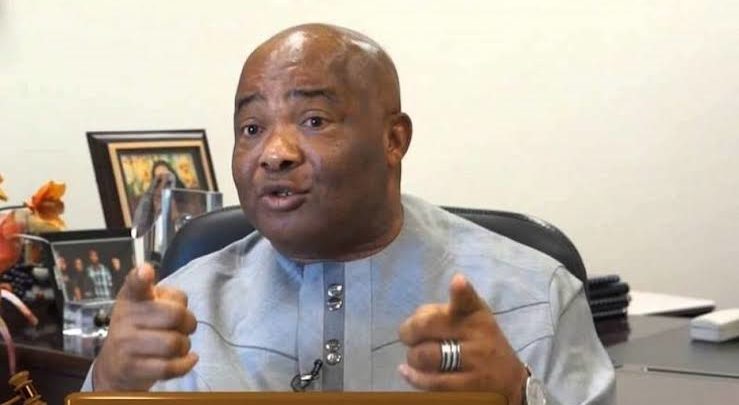 The Governor of Imo State, Senator Hope Uzodimma has advised Nigerian youths to emulate Pan-Nigerian traits of past leaders like Dr. Nnamdi Azikiwe, Chief Obafemi Awolowo, Alhaji Tafawa Belewa and others who worked tirelessly to champion peace, growth and development of Nigeria.
Governor Uzodimma barred his mind at Government House Owerri when he received in audience a Coalition of Ethnic Nationality Youth Leaders of Nigeria who were on a courtesy visit to him.
He lauded them for the bold initiative of forming a united, cross-cultural and non-ethnic nationality association that cuts across the six political zones of the Federation solely for the purpose of enhancing peace, co-habitation and national unity.
The Governor enjoined the group to shun politics of tribal sentiment and ethnic coloruation which tend to pitch every Nigerian against each other. "What Nigeria needs most is strong and united Nigeria, using her diversity in culture and ethnicity as a source of strength," the governor said.
He informed the youths drawn from Igbo (Ohaneze), Arewa the (Hausas), Idoma (Benue), Ijaw (Bayesa), Kano and others that Nigeria in the recent past has faced a lot of daunting challenges that have threatened the unity and sovereignty of her existence and thanked President Muhammad Buhari for exhibiting a lot of administrative courage and competence in handling all the intractable challenges.
He pointed out that the APC administration, in spite of all challenges, has given the youths a sense of belonging through several forms of empowerments such as N-Power, Employment, Political Appointments, Agric Loan, Skills Acquisitions and their likes,  and advised them to rally round the President and support him to do more for them.
Governor Uzodimma emphasized that whatever is happening in Nigeria today is not new as many countries have experienced same in the past and still came out stronger. He assured that Nigeria will definitely win the war of whatever challenge she is facing now and emerge stronger but warned that it will not be possible without Nigerian Youths partnering with the Government in Power.
He admonished them to eschew bitterness and rancour, shun violence, and encourage the leadership at the Federal, State and Local Governments to put in their best. He reiterated that what brings down a nation and demonizes a leader is the politicization of development, wars and criminality.
Governor Uzodimma appealed to the youths to see Nigeria as their own and join hands together to move the nation forward. He advised them against allowing themselves to be used by politicians and mischief makers as political thugs to destroy the nation they are bound to inherent and lead in future.
Earlier in their address, the National Chairman/Leader of the delegation, Alhaji Mohammad Salihu Danlami said that the body is saddled with the philosophy and core values not only to foster and promote peace and unity among the existing ethnic nationality youths in the Country but also to encourage the inter-cultural and religious tolerance and to support the programmes and policies of the Government for nation development.
Acknowledging the numerous and observable achievements of Governor Uzodimma in  his short period of piloting the affairs of Imo State, he emphasized that the Governor  has made human capital development and infrastructural re-engineering the fulcrum of his administration and wished him a peaceful rule and unequaled achievements in his first four years of administration in Imo State.
The group appealed to the Governor to see them as one that needs assistance and do well to come to their aid in the areas of mobility and general support to their programmes and activities as they plan to celebrate the 2020 Youth Week, though in a low key because of the corona virus pandemic.
Present at the courtesy call were Chief of Staff, Barr. Nnamdi Anyaehie, Commissioner for Information, Declan Emelumba Chief of Staff (Operations), Barr. Emeka Agbor, and the Chief Press Secretary and Media Adviser, Mr. Oguwike Nwachuku.