News
Encomium for Dr Chidozie Nwankwo as he marks another birthday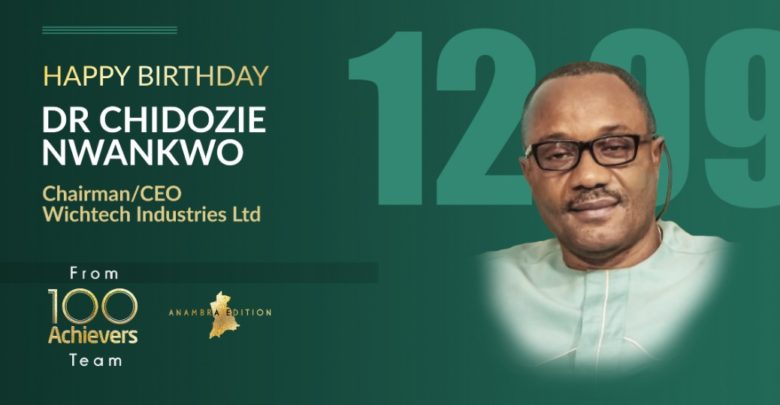 Reverence does not make the eagle soar high. Neither does it make him a king of the sky. It's being a king of the sky that brings reverence to the eagle.
Nevertheless, it is important to address our great achievers with words of appreciation for their works of splendour because doing so tells the world the path we have chosen to follow.
On this special day, the 100-Anambra Achievers' team extends our birthday wishes and gratitude to a great son of Anambra State, Dr. Chidozie Nwankwo.
In so doing, it is our belief that giving honour to whom honour is due is an obligation of all lovers of good things.
Dr. Nwankwo is no doubt a gift to our generation. His immense contribution has been of benefit to all and sundry and appreciating him on a day like this is a direct invitation to even greater things.
Sometimes, we refer to it as an encomium when people heap praises in a manner that makes good things sound better. This is what people do when respected individuals are being honoured.
Today, as Dr. Chidozie Nwankwo marks another birthday, we would love to do the same. We would love to make good things sound better because his contributions to humanity are so enormous and beautiful that even the best words can barely describe how beautiful they are.
His presence in the socio-economic development of Anambra state and Nigeria at large has become a pillar to lean on.
In the area of employment, Dr. Nwankwo has successfully created thousands of jobs that brought gainful employments and financial liberation to thousands of Nigerian families. It is important that we consider the relevance and impact of such jobs on the wider society. Dr Nwankwo must have thought about this because everything he does reflects quality and value to the people.
As a direct study in perseverance, he did not despise the days of little beginning. With just ten thousand naira, received from his father, he wrestled to the very top of economic echelon and built a chain of companies that are today reference points in the building sector in Nigeria.
Because of this, he stands tall enough, in the midst of the nobles, to be recognized as a role model and someone the upcoming generation of Nigerian youths and Ndigbo, in particular, should look upon for guidance and emulation.
He has proven that hard work, diligence and patience are a lot more rewarding than indulging in any form of sharp practices.
As a pioneer of stone coated roofing sheets,he has proven that a company can stick to quality even when cutting corners is becoming a norm. Considering the high quality his companies, one of which is Wichtech Industries Ltd, are known for and his employment generation capacity, let us say it once again to the listening ears of our dear people that bestowing a national honour on this distinguished Nigerian is the best way to show the youths that, truly, there is dignity in honest labour.
With about 168 offices scattered all over Nigeria, Dr. Nwankwo is a nationalist whose contribution to economic growth cuts across all states of the federation. It was such a massive contribution that earned him recognition as part of the people that elevated the economy of Lagos during the event that marked Lagos at 50.
Our team – the organizers of 100-Anambra Achievers' Project has thoroughly considered his contributions to humanity and we think that if a name like his is not on the list of the best 100, such list would fall short of the people's choice.
This a man who enjoys doing good to people without the accompaniment of camera and mega phone. On seeing the plight of the people, he quietly created a foundation that was born about 30 years ago with the sole aim of putting a smile on sad faces.
We may not be aware when he established this foundation but the good works of the foundation have refused to hide.
Through his foundation, Dr. Nwankwo has removed the burden of over 10,000 widows by elevating them financially.
He believes that education is the bedrock for achievement and for this reason, more than 300 students have received scholarship awards up to Tertiary level in the last 10 years.
In Northern Nigeria, over 600 families have been supported to start small businesses and over 30 Missionary crusades have been organised and sponsored over the years. He is also consistent in providing financial support for medical outreach across Nigeria.
In all, over 100,000 families have been touched by the activities of Dr Nwankwo's foundation.
As he marks his birthday today, we can only pray that the Merciful God continues to bless and keep him as he kept the children of Israel (Numbers 6: 22-26).
More divine blessings to Dr. Chidozie Nwankwo means more blessings for humanity.