Entertainment
Enjoy the long weekend with the return of La LIGA, others on GOtv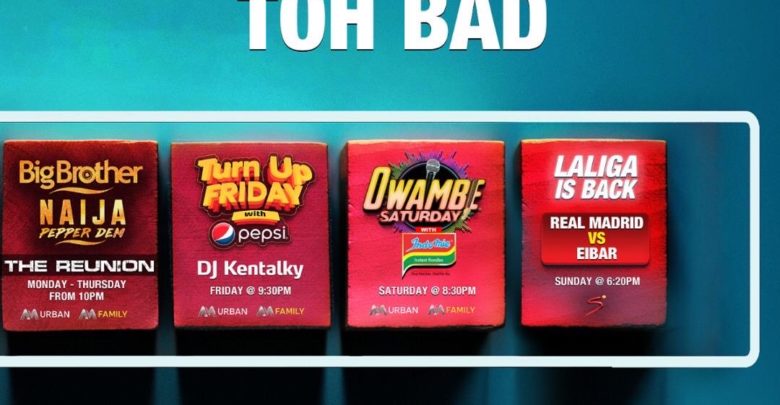 What better way to enjoy your long weekend than to spend it with GOtv! There are movies that will bring the family together, kids shows that will stimulate the minds of the children, sports content that will keep the fans cheering and so much more!
There's Great News!
Spain's La Liga is back! Tune in on SuperSport Select 4 (channel 34) to watch Mallorca vs Barcelona on Saturday, 13th June at 9pm and Real Madrid vs Eibar at 6:30pm on Sunday, 14th June. For more sports content, visit www.supersport.com.
MAX Customers Can Enjoy:
Minority Report airs on BET (channel 21) on Friday, 12th June at 8:30pm. Tom Cruise stars as an officer whose own elite law enforcement squad begins a hunt for him when he's accused of a future crime.
Notting Hill airs on M-Net Movie Zone (channel 3) onSaturday, 13th June at 8:35pm. A bookshop owner's world is changed when a movie star walks into his shop and they begin a relationship.
Brand new! Diabolical: Deadly Love airs on Investigation Discovery (channel 52) on Saturday, 13thJune at 8:50pm. 'Diabolical' is a 10-episode docuseries that delves into the minds of murderers, asking a simple question: "Why did they do it?".
WWE'S latest pay-per-view special, 'Backlash' will air LIVE on Monday, 15th June at 12am on SuperSport Select 5 (channel 36). The event will be headlined by a match for the WWE Championship between title holder Drew McIntyre and Bobby Lashley.
JOLLI Customers Can Enjoy:
These shows on AM Family (channel 2).
uLesson airs weekdays at 4pm. uLesson is an intensive study programme which offers students in SS1, SS2 and SS3 a holistic learning experience in Biology, Chemistry, Mathematics and Physics preparing them for Senior Secondary School Exams.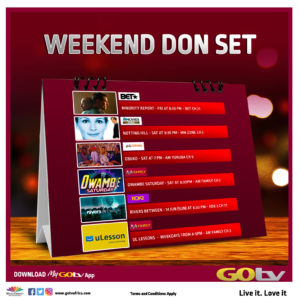 AM Turn Up Friday With Pepsi airs Fridays from 9:30pm. Grab your drinks and enjoy 'DJ Kentalky' set LIVE from your home with your very own hype man,Do2tun this Friday, 12th June.
AM Owambe Saturday With Indomie airs Saturday's from 8:30pm. Pleasant Sound Band' will join the award-winning media personality, Yaw as he hosts this Saturday, 13th June Owambe session.
Mercy & Ike airs Sundays at 6pm. This reality TV show follows the love life of Mercy and Ike. Tune in to find out what will unveil in the next episode.
Rivers Within airs on ROK 2 (channel 17) on Sunday, 14th June at 6:30pm. The Bayini village struggle for survival after some powerful politicians threaten to take over their lands.
JINJA Customers Can Enjoy:
Bonded In Love, airs on AM Epic (channel 9) on Saturday at 7pm. A fatal accident cuts a beautiful love story short, how will this love story end?
Don't miss out on the quality programming in June. Follow GOtv on Twitter, Instagram and Facebook for more. Visit www.gotvafrica.com or download the MyGOtv app from the iOS and Android store to find out more and for self-service options. You can also pay for your GOtv subscription using – USSD CODE (*288#), PAGA, Quickteller, Automated Teller Machines and Bank Apps. The GOtv toll lines; Etisalat(09085330333), MTN (08139842260), Airtel (07080630900) & GLO (08117930333) are also available to speak with customer service representatives.