Sports
Falcons to go big against Banyana as envoy charges team to go for victory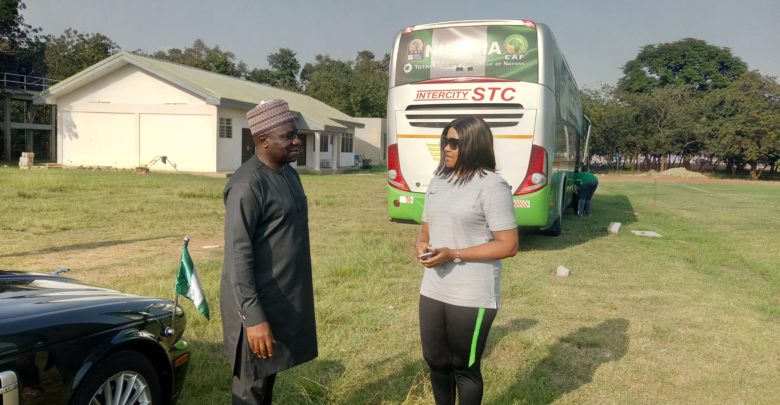 PHOTO: Ambassador Abikoye (left) meets NFF Executive Committee member and leader of delegation, Aisha Falode
Champions Nigeria will throw in their aces from the referee's first blast of the whistle in Saturday's Women Africa Cup of Nations Final against South Africa at the Accra Sports Stadium.
Coach Thomas Dennerby and Captain Onome Ebi have spoken of high level of motivation and determination in the team to retain the Women AFCON trophy and continue Nigeria's near-absolute domination of the continental championship.
In 20 years of its existence, reigning champions Nigeria have dominated the Women AFCON to an embarrassing degree, with only Equatorial Guinea breaking their clean sweep on only two occasions, with Mercy Akide, Perpetua Nkwocha (on four occasions), Desire Oparanozie and Asisat Oshoala emerging top scorers at different championships.
The latter two – Desire and Asisat – are still in the mix, and in fact constitute the Dreaded Duo that the Banyana Banyana will do well to keep sharp eyes on throughout the 90 minutes on Saturday.
Nigeria and South Africa have been in the final together once – in 2000, when the South Africans hosted but the Nigerians successfully retained the trophy after a 2-0 defeat of the hosts in Johannesburg.
While the whole team worked together for the hard –fought win over Cameroon in the semi finals, special credit must go to goalkeeper Tochukwu Oluehi for her calmness and confidence throughout, including stopping Gaelle Enganamouit's kick in the penalty shoot –out, which lifted the Nigerians' confidence.
On Saturday, Oluehi would as usual, be protected by the quartet of Josephine Chukwunonye, Onome Ebi, Osinachi Ohale and Ngozi Ebere, with Rita Chikwelu, Halimatu Ayinde and Ngozi Okobi likely to star in the middle, behind Ordega, Oparanozie and Oshoala.
Experience is an advantage standing ramrod on the Nigerian side, but it would not be an easy afternoon against a skilful, creative, energetic and technically –savvy Banyana Banyana side boosted by their 1-0 defeat of the Cup holders in the opening match of Group B in Cape Town on 18th November.
Some other positives have put the South African camp in buoyant mood. Victory over Mali in Cape Coast on Tuesday meant the Banyana will make a first –ever appearance at the FIFA World Cup come summer of 2019, and players like Thembi Kgatlana (whose goal put Nigeria to the sword) and Lebohang Ramalepe (sumptuous effort against Mali) are fired up for Saturday's final.
Kgatlana has already been installed as the revelation of the tournament as she leads the goals' chart with five, and in Captain Janine Van Wyk, who will be making her 159th international appearance, the Banyana have a leader who knows where all the crumbled cookies in African women football have been deposited.
An excellent atmosphere is guaranteed, with President Nana Addo Dankwa Akuffo-Addo of Ghana to head a cast of dignitaries for the evening. CAF President Ahmad, Nigeria's High Commissioner to Ghana, Ambassador Olufemi Abikoye, NFF President and CAF 1st Vice President Amaju Pinnick and SAFA President and CAF Executive Committee member, Danny Jordaan are also on the list.
AWCON FINAL MATCHES IN HISTORY
1998: Nigeria 2 Ghana 0 (Abeokuta)
2000: South Africa 0 Nigeria 2 (Johannesburg)
2002: Nigeria 2 Ghana 0 (Warri)
2004: Nigeria 5 Cameroon 0 (Johannesburg)
2006: Nigeria 1 Ghana 0 (Warri)
2008: Equatorial Guinea 2 South Africa 1 (Malabo)
2010: Nigeria 4 Equatorial Guinea 2 (Johannesburg)
2012: Equatorial Guinea 4 South Africa 0 (Malabo)
2014: Nigeria 2 Cameroon 0 (Windhoek)
2016: Cameroon 0 Nigeria 1 (Yaounde)
2018: Nigeria Vs South Africa (Accra)
…Ambassador Abikoye charges Falcons to go for victory
Nigeria's High Commissioner to the Republic of Ghana, His Excellency Olufemi Abikoye has congratulated the Super Falcons for their endeavour so far at the 11th Women Africa Cup of Nations, while charging them to go all out for victory against the Banyana Banyana of South Africa in Saturday's final.
Delivering a message from the President of Nigeria, His Excellency President Muhammadu Buhari (GCFR) when he visited the team at Presco Secondary School during their training session, Ambassador Abikoye praised the eight –time champions for seeing off the Indomitable Lionesses of Cameroon in the semi finals.
"You defeated Cameroon at home the last time to win the title so everyone knew the semi final match between both teams was going to be very tough. But we thank God you put in all your strength and you listened to the instructions of the coaches and were able to come out on top. The analysts gave the match to Cameroon, but you proved them wrong.
"So, on behalf of His Excellency, President Muhammadu Buhari, I want to say big congratulations."
He added: "On Saturday again, it is not going to be easy. Cameroon came out strong because you defeated them in Yaounde in the 2016 Final. You cannot allow South Africa to beat us twice here in Ghana. It is now your turn to seek your revenge against the South Africans and win the trophy on Saturday".
The Ambassador further pledged that the Nigerian Community in Ghana will come out in their numbers on Saturday to support the team.
"We have large numbers of our people who have been here for long. They will all come out on Saturday to support you. So, put all your energy and technical know-how into the encounter and win the trophy. A champion will always be a champion".