Sports
Fanny Amun hails organisers of Sportsville award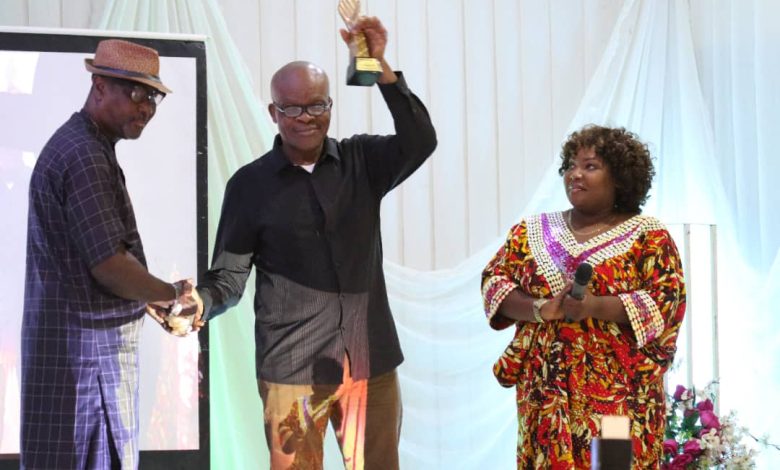 Photo: Ambassador Fanny Amun (middle) who represented Dr Pat Ekeji  receives the special recognition award bestowed on Dr Ekeji.
By George Aluo
Former Secretary General of Nigeria Football Federation (NFF) Ambassador Fanny Amun (MON) has hailed the organisers of the annual Sportsville award.
Amun who graced the event last week in Lagos said it is an award that would spur sports administrators and other stakeholders to contribute more to the development of Nigerian sports.
Amun stressed that he was impressed the more by the calibre of people and corporate bodies that were bestowed with the award.
"One thing going for the Sportsville award is that it is bestowed on icons who truly deserve it. Take Bayelsa state as an example, the state has done well in sports and singling out Gov Douye Diri for award would make him do more. I am happy he said at the occasion that Bayelsa is looking to consolidate by building a world class stadium in Yenagoa. Dr Pat Ekeji who was honored was a sports administrator per excellence. As DG of the defunct National Sports Commission (NSC) he did a good job. He also played the game at the highest level for Nigeria. It was very thoughtful of Sportsville to honor such a man," Amun said.
The Sportsville award which is in its edition was held at the Lagos Country Club, Ikeja.
The event attracted several sports personalities that included the chairman of the league Interim Management Committee (IMC) Gbenga Elegbeleye and the First Lady of Edo Mrs Betsy Obaseki who was also a recipient of the award.