Politics
Fashogbon Assures Youths Support To Florence Ajimobi's OTISHE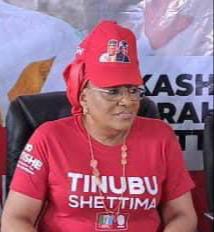 An Ibadan based Youth leader and entrepreneur, Fashogbon Abiodun David has voiced his opinion on the current chaos occasioned from the fuel scarcity and redesigning of the naira that have definitely triggered economic disruption and difficulty for the commoners.
The Chairman of Fizzie Republic however reiterated his support to the Oyo State Coordinator of the Tinubu/Shettima Women Presidential Campaign Organisation, Dr. (Mrs) Florence Ajimobi who is spreading message of hope and the need to support the presidential ambition of the candidate of the All Progressives Congress (APC), Asiwaju Bola Ahmed Tinubu and his Vice, Alhaji Kashim Shettima, to stakeholders in Oyo State.
"We have listened to the message of renewed hope, today, tomorrow and day after being shared by our former First Lady hence want to assure her of the support of verse numbers of youths in Oyo State", said Fashogbon that also owns 'Out of Home' (OOH), an advertising firm with a product called 'P3'
He however urged his fellow youths in Oyo State that desired to inherit a foundation for a greater economy of medium and long term promised by Asiwaju Tinubu to jealously guide their Permanent Voters Card (PVC) to enable them vote during the General Election.
He applauded the statement made in Abeokuta Ogun State's capital by the presidential candidate of the All Progressives Congress, Bola Tinubu, who blamed the lingering fuel scarcity and hike in the fuel price in the country on the handiwork of some saboteurs.
Fashogbon commended Tinubu over his bold remarks, describing him as a true lover of the common Nigerian while he apportioned huge blame to the presidential candidate of Labour Party, Peter Obi, who he claimed supposed to have challenged the system but decided to remain silent.