News
FIFA Women's World Cup 2019: TSG report hails outstanding quality of football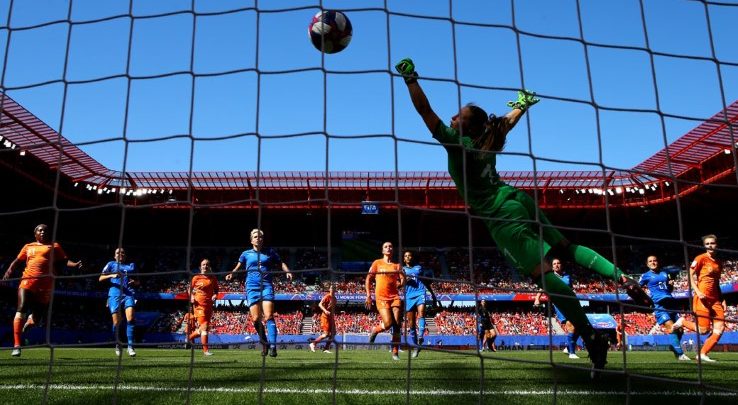 The best‑ever FIFA Women's World Cup™ not only off the pitch, but on it too. This is the overall conclusion of FIFA's Technical Study Group (TSG) report on the FIFA Women's World Cup France 2019, which will be published on 22 September, coinciding with the FIFA Football Conference in Milan.
"France 2019 was the most electrifying Women's World Cup of all time. I have been involved in the Women's World Cup since its first edition in 1991, and 2019 was by far the best," says April Heinrichs, the Head of the TSG.
"The most impressive aspect of this Women's World Cup was the overall influence of attacking transitions. Teams showed the ability to penetrate quickly and effectively. Practically every team was dangerous while counter-attacking."
The TSG report reveals that only 9% of passes were played long in France, a decrease from the previous two editions of the tournament, which suggests that teams were progressively looking to play shorter balls and build patiently, as opposed to going direct.
Another highlight relates to goalkeeping, particularly the number of superb game-impacting saves that were made over the course of the tournament, where the save rate of 70% was five percentage points up from the FIFA Women's World Cup Canada 2015™. Additionally, the 72% conversion rate from penalties in France, down ten percentage points from 2015, attests to the level of goalkeeping, with a save rate of nearly one from every four confirming that it was not so easy to score from the spot.
"Besides the outstanding performances of all goalkeepers who made it to the quarter-finals, we saw other keepers [catch the eye] – like Chile's Christiane Endler, who was simply fantastic. In this edition of the Women's World Cup, we were treated to fantastic goalkeepers who made huge contributions to their team's success, not just in terms of shot-stopping but also in build-up play with their feet," states Heinrichs.
The TSG report also contains a variety of performance insights, including the ranking of total distance covered, which was led by Germany with 114.7km per match, substantially above the tournament average of 109.3km.
Coaches and technical directors from over 150 member associations are expected to attend the FIFA Football Conference dedicated to the tournament. The list includes FIFA Women's World Cup‑winning coach Jill Ellis, finalist Sarina Wiegman, Sweden's Peter Gerhardsson, England's Phil Neville, France's Corinne Diacre, Italy's Milena Bertolini, Germany's Martina Voss-Tecklenburg, Norway's Martin Sjögren, Scotland's Shelley Kerr, Australia's Ante Milicic, Canada's Kenneth Heiner-Møller, China's Jia Xiuquan, Japan's Asako Takakura, Spain's Jorge Vilda, Cameroon's Alain Djeumfa, South Africa's Desiree Ellis, New Zealand's Tom Sermanni, Argentina's Carlos Borrello, Brazil's newly appointed manager Pia Sundhage and women's football experts from all six confederations, among many others.