Sports
FINA Diving World Cup: China again sweeps 3 golds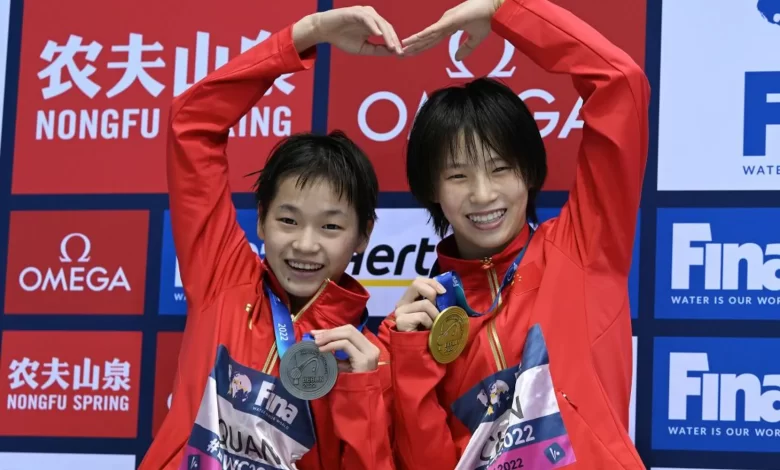 On Saturday, reigning FINA World Champions from China once again claimed 3 gold medals in 3 events in Berlin, punctuated by an absolute show-stopper in the women's 10m event: a showdown between teen sensations Chen Yuxi and Quan Hongchan that produced 10 perfect scores of 10.
Nothing is more exciting in diving than when China tries to beat China in the individual events, and Saturday's session in Berlin ended with 17-year-old two-time FINA World Champion CHEN Yuxiscoring five perfect 10's to beat the 15-year-old Olympic champion QUAN Hongchan who produced five 10's of her own for silver.
By the end of the day, China was a perfect 6-0 in victories at the FINA Diving World Cup in Berlin; the US picked up three more medals (for a meet total of four); and Australia and Germany earned one apiece in the synchro events.
China extended its winning streak first in the women's 3m synchro event on Saturday, thanks to a solid (but not spectacular) performance by the 2022 world champions CHANG Yani, 20, and CHEN Yiwen, 23, who scored 330.03 for their five dives.  The key was that over the last three rounds – where synchro athletes are free to choose the difficulty of their dives – China never scored lower than 72.00 points while the rest of the field failed to top 63.90.
Afterwards, Chang said the duo is always chasing perfection and even with their success, they still get nervous butterflies "a little bit, but it's totally under control."
Germany and the US battled for second place but the final order was set in the second round when Germany's Saskia OETTINGHAUS and Jana Lisa ROTHER edged past the Americans, Kristen HAYDEN and Brooke SCHULTZ and eventually claimed a third medal for the host country: silver, 57.09 points behind China. The US finished third, trailing Germany by 14.97 points. The other two teams, Colombia and Brazil finished fourth and fifth, respectively.
In the men's 3m synchro final, China's world champions CAO Yuan and WANG Zongyuan again topped the field – this time by 88.68 points over runners-up Tyler DOWNS and Greg DUNCAN of the US.  But the Chinese duo got a little too comfortable after scoring all 9.0's and 9.5's on its first two dives.
In the third round, an out-of-synch and splashy forward 2½ with 2 twists (with a 3.4 DD, not even China's hardest dive) scored just 63.24. Colombia's Sebastian MORALES and Luis Felipe URIBE(who had been in seventh place among the eight teams) did the same dive in the same round, and scored 69.36 to top China's single dive score and vault into third place (behind China and Germany).