Sports
France 2019: We'll prepare hard and take our chances -Dennerby
South Africa, Cameroon not downcast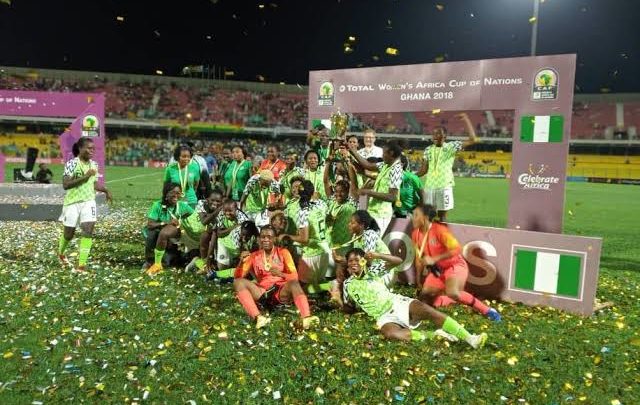 Following what football afficionados the world over saw as a tough draw for the Super Falcons ahead of the 2019 FIFA Women's World Cup finals, Head Coach Thomas Dennerby has declared that Nigeria will work to prepare hard and take it one match at a time in the finals next year summer.
The African champions were on Saturday evening drawn with hosts France, Norway and Korea Republic in Group A of the 24 –team championship, at a colourful ceremony inside the La Seine Musicale on the River Seine in Paris.
"There is no easy group here. I am okay with the draw because I always knew that we would have to play the best teams. That is what you do at the World Cup. The French team is, of course, world class, and I know we would have to fight very hard against them.
"The Koreans are very technical and have pace but we will confront them with our physical strength, ability and pace of our own and we have a great chance in there. I know the Norway team, more than they know us or can hope to know us. At the end of the day, it would come down to preparations. We must prepare very hard and then take it one match at a time during the finals," the Swedish tactician said at the mixed zone following the ceremony.
President of the Nigeria Football Federation, Mr. Amaju Melvin Pinnick, who attended the event as the 1st Vice President of CAF and Member of the Organizing Committee for FIFA Competitions, told thenff.com: "It is a draw that tells us that we have to do everything we can to prepare the team well for the competition.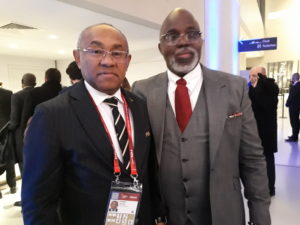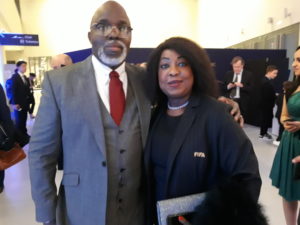 "Presently, we have firmed up two tournaments in China and Cyprus for the team, and we are talking with a few countries and organizers for matches and tournaments. We will give the Head Coach and his team the necessary support to prepare the team adequately for the competition."
Former Super Falcons' star Mercy Akide-Udoh, who flew into France from the United States of America and attended the ceremony as a FIFA Ambassador for Women's Football, opined: "This is a tough one for us. But I think the Federation should do everything to ensure adequate preparation of the team."
The 8th FIFA Women's World Cup finals will take place in nine French cities between 7th June and 7th July 2019.
Nigeria's first match of the finals will be against Norway in Reims on 8th June, before they play Korea Republic in Grenoble on 12th June. Their last match of the group phase is against hosts France in Rennes on 17th June.
"If you have to make real impact at the FIFA World Cup, you have to beat the strong teams. That is what we have to prepare for. I am looking ahead to an interesting tournament in France in the summer of next year," Dennerby added.
The opening match of the tournament is between France and Korea Republic, and will hold at the Parc des Princes in Paris on 7th June 2019.
…South Africa, Cameroon not downcast
Just as Nigeria is refusing to bow their heads in submission as a result of Saturday's 2019 FIFA Women's World Cup in Paris, Africa's two other flagbearers, Cameroon and South Africa, are keeping their heads up.
"It's not a death sentence," Desire Ellis, Head Coach of Banyana Banyana of South Africa, told thenff.com. "We knew we would be drawn against very strong teams and that is exactly what we got. This is our first time at the World Cup so everyone will look at South Africa as an underdog. We like it that way.
"For now, we have already scheduled games against European champions, The Netherlands, as well as Sweden, and we will play the USA as well. We will be ready for the tournament."
Banyana Banyana lost on penalty shoot –out to Nigeria in the final of the Women AFCON in Ghana a week ago, and have now been drawn to play two –time champions Germany, China and Spain in Group B of the global showpiece in the summer of 2019.
President of the South Africa Football Association, Dr. Danny Jordaan, said: "There are 211 Member Associations of FIFA, and only 24 are here. There are 55 countries in Africa and only three are here. So, we should naturally expect to be drawn against the top teams. We are also a top team; that's why we are here."
As for Coach Joseph Buan Ndoko of Cameroon's Indomitable Lionesses, the draw means the team has to work very, very hard. "Some people are saying we got a favourable draw but I'm not seeing it that way. We have to go and prepare well and hard. None of the 24 finalists is an easy team."
Cameroon, who also lost to Nigeria on penalty shoot –out, in the semi finals of the Women AFCON in Ghana, will play in Group E alongside Canada, New Zealand and The Netherlands.
ALL THE GROUPS
GROUP A
France
Korea Republic
Norway
Nigeria
GROUP B
Germany
China
Spain
South Africa
GROUP C
Australia
Italy
Brazil
Jamaica
GROUP D
England
Scotland
Argentina
Japan
GROUP E
Canada
Cameroon
New Zealand
The Netherlands
GROUP F
USA
Thailand
Chile
Sweden