Sports
Go Round FC add nine new players to their ranks as NNL begins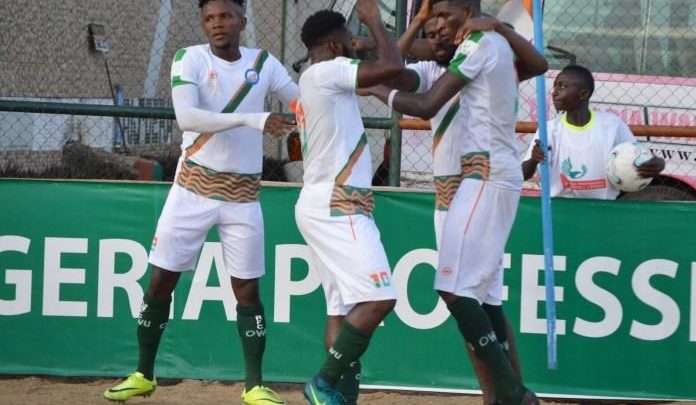 Go Round FC have added nine new players to their ranks as they kick start their return to the Nigeria Professional Football League, NPFL.
Oremade Olawale (Akwa Starlets) and Anibor Emmanuel (Lobi Stars) are two goalkeepers who will join Arthur Nwonumah to battle for the number one shirt.
Former player, Uchenna Ezeala returns after stints at Rovers and Ibom Youth while Chile Azu is back following a one-year sojourn at Lobi Stars.
Emmanuel Osigwe joins up from Osun United.
Club top scorer from the last season in the NPFL, Chiegbonam Nwogbaga stays back with the team as well as defender Akaba Otega and George Vincent.
Go Round FC begin their race for redemption in Ibadan against Shooting Stars in Match Day 1 of the Nigeria National League, NNL on Sunday, November 24, 2019.
The Omoku based side has faced a heavy reorganization since their relegation from the Nigeria Professional Football League at the end of the last season.
Erstwhile coach of the side, Willy Udube departed to join Abia Warriors, while former assistant coach, Smart Justin who was promoted to Head Coach left ten days to the start of the season.
Abiye Tamuno Iyalla leads a team of ambitious players to Ibadan with hopes of getting a result to boost their chances of making it back to the NPFL.
Full List of Go Round FC players for 2019/ 20 League season
Goalkeepers
Arthur Nwonuma
Eze Chidiebere
Oremade Olawale (Akwa Starlets)
Tobi Ishola
Anibor Emmanuel Lobi Stars)
Defenders
Uchenna Okoronkwo (Rovers)
Kamaru Ogunjobi
Chris Kpekpe
Akaba Otega
George Vincent
Chile Azu (Lobi Stars)
Odinaka Onyirumba
Emmanuel Osigwe (OSu United)
Oyetoro Elijah (Lobi Stars)
Chukwudi Ekene
Nwokeke Gift
Uduak Daniel (Yobe Stars)
Midfielders
Essi Kessiena (Lobi Stars)
Stanley Worlu
Chinonye Chinda
Sunday Eze
Naantuan Clement
Abdulahi Sadiq
Thaduba Sojah
Brena Barite
Adiela Chnedu
Attackers
Igwu Ikechukwu
MAduka Junior
Ernest Lawal
Orubele Kaykay
Ogbonna Anayo (Yobe Stars)
Chiegbonam Nwogbaga
Joshua Osem
Ugwu Onyedikachi
Olafinihan Atinushola