Sports
HiFL R-16 '22: AAUA Luminaries, UNIMAID Desert Warriors Bow Out As LASU Blazers, UNN Lions Get Q-Final Tickets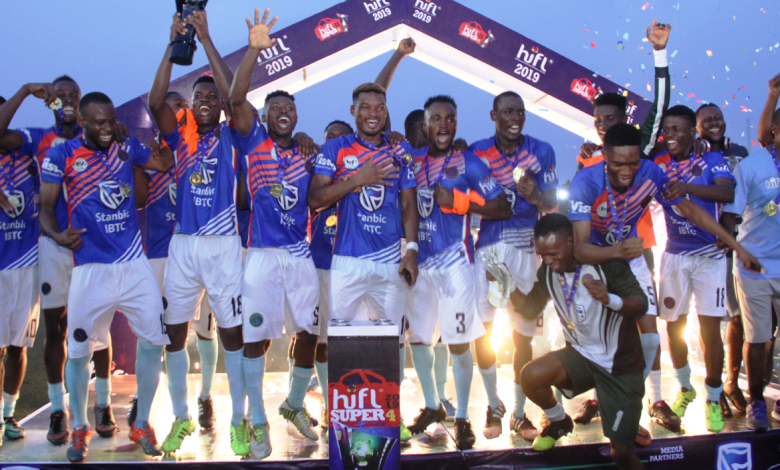 Three teams that played in the 2021 Higher Institutions Football League (HiFL) Super Four have crashed out of this year's competition. Defending champions, UNIMAID Desert Warriors, first runner-up AAUA Luminaries and fourth place FUTMINNA Transformers could only watch as fans of their opponents danced to the victory songs. HiFL, organized by Pace Sports with support from StanbicIBTC, Bold, LIRS and Indomie is in its fourth active season.
In Lagos, AAUA Luminaries from Adekunle Ajasin University could not overturn their 2-0 home loss when they took on LASU Blazers as they lost by 2-1 in a thrilling encounter at the Lagos State University Sports Complex.
The Akungba Boys took the game to their opponent from the start hitting the first shot on target in the 10th minute through Daodu Maten. The Luminaries dominated the first half but could not breakdown the Blazer's defence.
The Luminaries eventual broke the deadlock in the 47th minute when Samuel Oyetola pounced on a loose ball from a missed clearance by the Blazer defenders. The goal from the Luminaries jolted the Blazers to change from their defensive formation to a more attacking formation. The Blazer's effort eventually yielded a result when Daniel Odufejo nodded in a loose ball in the 55th minute after an error from the Luminaries' goalkeeper Opeyemi Oladele.
The Blazers finally put paid to the Luminaries' quest in the competition with a ferocious shot from the StanbicIBTC Man-of-the-match Subair Yahya in the 86th minute and won the tie with a 4-1 goal aggregate.
Speaking after the match an excited Blazer's coach, Omasaiye Bamidele said "it is our turn, and our doggedness and preparation will see us through the finals. The stage is set and we are equal to the task. I have confidence in this team and with the determination and zeal of my boys we are going all the way to lift the trophy".
Meanwhile, the Coach of AAUA, Joseph Abuo said he is proud of his boys despite their loss to the Blazers. "We are a much better side, but it is a game of football. Sometimes, you win and other times you lose. We will go back home and prepare more for the next season, hopefully, we will have a little bit of luck on our side next season" Abuo said.
In other games, BUK Stallions held the defending champions UNIMAID Desert Warriors to a goalless draw in Kano to qualify on away goals rule having played 1-1 in Maiduguri. KSU Steelers defeated FUTMinna Transformers 1-0 in Kogi to qualify on 3-2 goals aggregate while UNN Lions held UNIPORT Sharks to a goalless draw in Port Harcourt to qualify on a 4-2 goals aggregate.