Entertainment
How Fans In Diaspora Celebrated Fuji Icon, Ayinde 'Merenge' @ 60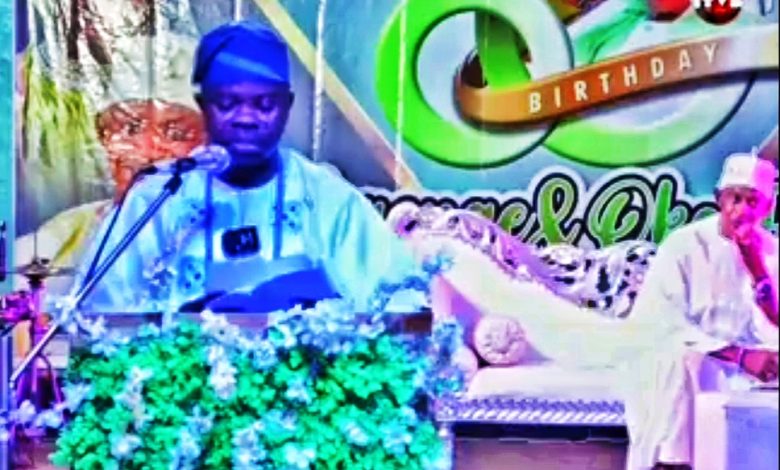 It was a gathering of cream de'la creme in the society on Sunday 23rd July when friends and well-wishers converged to celebrate the Fuji music Icon; Alhaji Rasheed Ayinde Adekunle popularly called Merenge who clocked 60 years.
The event which was powered by the friends and fans of the celebrant at the Diaspora and declared open by the chairman, planning committee, Agbaakin Ademola Adesigbin also witnessed a sermon from an Islamic cleric and a lecture delivered by a Prof. of African History and African Diaspora Studies from Florida International University, Miami Florida USA, Prof. Saheed Aderinto.
Aderinto, the 2023 Dan David Prize Winner, the largest History prize in the World delivered a paper titled: "Lagos is the home of breakthrough-provided your destiny agrees; Ibadan and the making of Rasheed Ayinde Merenge. The 60th Birthday Anniversary Lecture of Alh. Rasheed Adekunle (Merenge).
The chairman Extension Publications, Otunba Sunday Omoniyi Obiyinka who the chaired of the occasion in his speech appreciated all dignitaries that took time to attend the occasion while he described the celebrant, Alhaji Rasheed Ayinde as humble and a lovable person which responsible for why his fan in Diaspora came from various destinations in the world to celebrate him.
The Extension Publication Boss however urged the dignitaries present especially the younger Fuji artists to imbibe the humble disposition and emulate the good behavior of the celebrant so that people too can celebrate them in that way too, he subsequently requested his favourite track from the many songs of Alh Merenge with sum of one million naira during the request-and-play segment.
In the same vein, the chairman planning committee, Agbaakin Ademola Adesigbin in his remarks said Alhaji Rasheed Ayinde is the only Fuji musician that uphold Ibadan's fate because most people believed that if you want to get to stardom you must go to Lagos but Alhaji encouraged the likes of Alhaji Taye Currency, Paso Poly, Tiri Leather and host of others to hit limelight.
Wives, children, family and friends took time to showered encomiums on the Fuji star urging him not to relent on his good deeds, as some of fans, his daughter, Alimat Lawal requested for some of his hit tracks which he performed to the delight of the dignitaries present.
The celebrant, in his vote of thanks thanked all and sundry that contributed to the success of the occasion, as he specifically mentioned his fans in the Diaspora that gathered together to celebrate him, stressing that no kobo of his money was in the party, while thanking the popular broadcast journalist, Abdulrasaq Ganiyu popularly known as Mr. G.R.A and the Apreel1 Events TV that beamed the event live.