Sports
Huge crowd in NNL Lafia opener excites board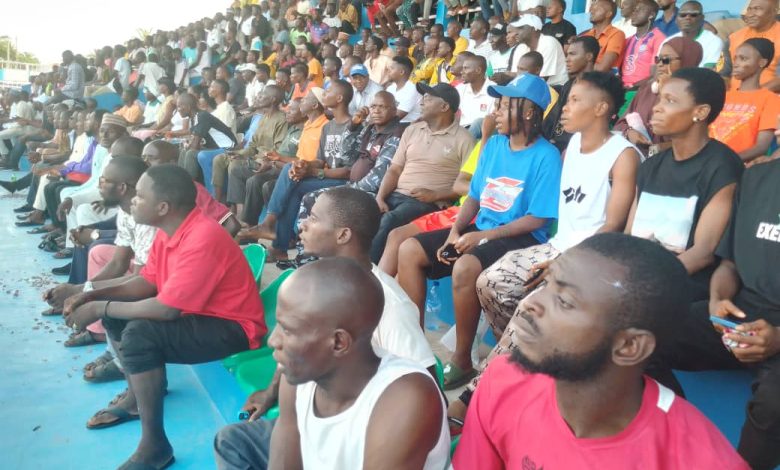 Photo: Fans at the Lafia City Stadium on Saturday during the NNL season opener involving Nasarawa United and Zamfara United.
The large crowd that thronged out  to watch the opening match of the 2023/2024 Nigeria National League (NNL) season at the Lafia City Stadium, capital of Nasarawa State has drawn the tonic for the leadership of the league to forge on.
The 10,000 capacity Lafia City Stadium was filled to the brim during the NNL opening fixture involving home side Nasarawa United and visitors Zamfara United.
NNL Board members could not hide their joy and excitement seeing how passionate football faithful and supporters of both clubs stormed the stadium to catch a glimpse of the clubs in the NNL season Saturday November 11, 2023.
Chairman of NNL, George Aluo said; "This is marvelous and a good sight to behold. You can see how much the fans have come to watch this game and support their teams, it makes it more fascinating for us, we are encouraged because football is all about the fans.
Players love it most when they see the fans and not  empty stands."
For the Chief Executive Officer of the league Emmanuel Attah. "The fans am watching here is big buisness for us, this is what our partners in this game and would be sponsors want to see."
Dr. Ayo Abdulrahaman, the Chief Operating Officer said the turnout would encourage the secretariat to work more for the NNL brand.
President of the NNL club owners (NALCOMA) Chidi Okonkwo  adds that it is the impetus for the game to grow knowing that the fans love the game and appreciate the players.
"We must keep working hard to attract the fans to come to the stadium to watch their darling team. That way, there is fun for every one. We will have families and others coming to be part of the fun. The league will grow and we can all be proud of it."
Other Day one matches in the NNL  will  hold on the 18,19 and 20 of November ,2023 in  the four conferences.