Sports
Hyundai, Kia renew FIFA partnerships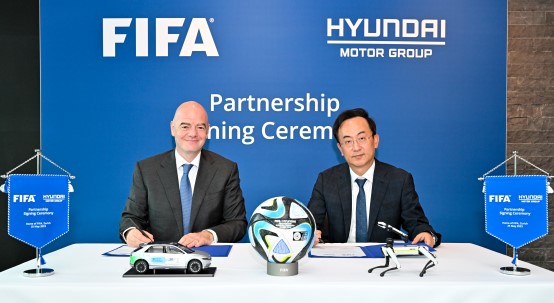 Hyundai Motor Group (the "Group") affiliates Hyundai Motor Company and Kia Corporation have jointly announced the renewal of their long standing partnerships with FIFA until 2030.
The renewed agreement welcomes Group subsidiaries Boston Dynamics and Supernal into the fold.
The renewals encompass a wide range of prestigious FIFA competitions, including the eagerly anticipated FIFA Women's World Cup 2023™ and FIFA World Cup 2026™. Hyundai and Kia's support for FIFA has spanned more than two decades, with a new emphasis on the growth and development of the women's game.
To commemorate the occasion, FIFA and the Group today held a signing ceremony at the headquarters of world football's governing body in Zurich, Switzerland. FIFA President Gianni Infantino joined hands with his counterpart Karl Kim to officially seal the agreement, symbolising the partners' shared commitment to make football truly global.
"We're thrilled to continue our long standing partnerships with Hyundai and Kia. Over the years, they have consistently demonstrated their commitment to supporting FIFA, and we value their dedication to enhancing the overall experience at our tournaments," said the FIFA President. "As we enter this new era together, we're excited about the prospects that lie ahead with the addition of Boston Dynamics and Supernal. Together, we'll continue to work on uniting the world through football."
"On behalf of Hyundai Motor Group, we're honoured to extend our partnerships with FIFA, reinforcing our long standing commitment to the world of football," commented the President of Hyundai Motor Group. "As we embark on this renewed collaboration, we look forward to showcasing the capabilities of our mobility solutions and partner brands on a global scale. Together with FIFA, we aim to inspire and unite fans around the world through the power of football."
As FIFA's official mobility partners, Hyundai and Kia will continue to play crucial roles in ensuring smooth and efficient transportation operations across FIFA's global events and competitions. The automotive manufacturers' extensive global distribution networks will allow them to provide comprehensive vehicle line ups that will fulfil all of FIFA's transportation requirements, enabling the seamless movement of teams, officials and staff.
Notably, Group subsidiaries Boston Dynamics and Supernal have joined this renewed agreement, providing exciting opportunities for the future mobility brands to showcase their expertise, technologies and sustainable approach to innovation to a truly global audience. Boston Dynamics is the Group's primary affiliate in robotics and Supernal is its advanced air mobility unit. Both subsidiaries are central to the Group's transformation into a smart and sustainable mobility solutions provider that is driven to advance future modes of mobility.