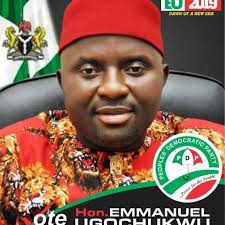 By George Aluo
The People's Democratic Party (PDP) aspirant to the Federal House of Representatives for Oshodi/Isolo federal constituency in Lagos, Hon Emmanuel Nnodim has declared that he is not a desperate politician.
Nnodim who spoke while addressing members of Ndigbo United Association (NUA) last week at Igbo House in Ajao Estate said he is leaving his fate in the hands of the people and God almighty.
"That I picked PDP's ticket was God's making and the fact that the people supported me to emerge. I believe God that started the good work would bring it to a successful end in 2019. Anybody who know me well will attest to the fact that I m from a humble home and that I m not a desperate person. If today my people say step down for a better candidate I would respect their opinion. But if they say go ahead, we are behind you, then I will forge ahead and one thing I can assure the people is that their interest would always come first. I m going to Abuja to serve and as I have said in my poster, it is the dawn of a new era."
Meanwhile, the President of Ndigbo United Association (NUA) Dr Jonathan Nnaji has disclosed that the socio cultural organization would screen the candidates of Igbo extraction gunning for elective offices in Lagos with a view to ensuring that only the best candidate gets the nod of the body.
"We want to ensure that we get quality representation in Abuja and this is why we would screen the candidates and give our full support to the best candidates," Nnaji said.