Sports
Ibadan set for maiden Oluyole Expo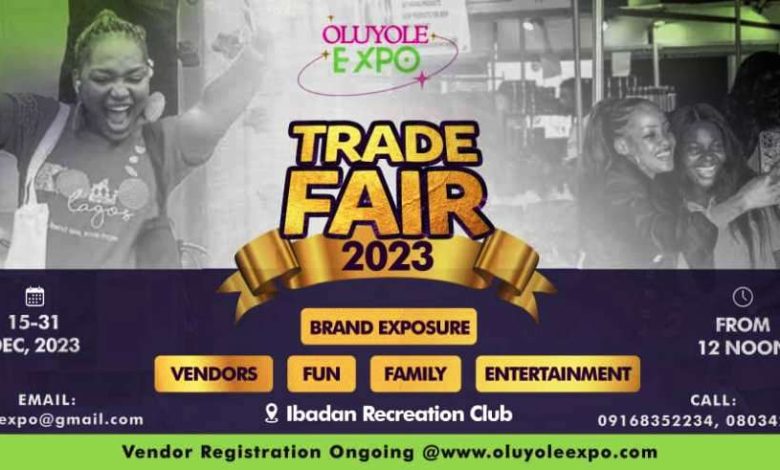 The city of Ibadan, capital of Oyo State is poised to witness maiden grand exhibition show tagged: Oluyole Expo 2023 which aims to bring awesome and memorable experiences to people as the organiser estimate it to be the longest and most vibrant in the history of expos in Nigeria.
The 17 days, Expo is designed to run from December 15th to December 31st, with the aim of creating memorable experiences that foster community engagement and business growth as well as unwavering commitment to excellence.
Speaking with newsmen, the visionary and convener of the Expo, Adenekan Semiu, popularly known as DJ Semight expressed optimism and excitement that his plans will create a legacy that transcends generations. He cited the Canton Fair as an example, with organizers planning for its 134th edition in China.
"We are thrilled to present an event that surpasses expectations which combines online and offline transactions to provide an ideal platform for businesses with exhibitors. Nigeria's leading exhibition, carnival, and business convergence promoting family values and culture."
"Oluyole Expo 2023 is not just an expo; it's an experience, a celebration of community and business coming together with convenient offers and valuable connections with trusted manufacturers," said DJ Semight.
While highlighting the high point of the event DJ Semight added that "the platform is open to government parastatals, local governments, businessmen, and blue-chip companies, giving them the opportunity to leverage the atmosphere of fun and entertainment and also to drive exposure to our culture, tourism, and sales."
"There will be a Trade fair with a thriving marketplace for vendors to showcase their products and services. "We will also have a talent hunt program where talents in hip-hop, Fuji, Juju, and so many more will compete and participants will show their talents and the crowd will be the judges."
"There will be unbeatable entertainment atmospheres with comedy, dance, music, and lots of side attractions, grooving all day and all night long. Kids will also enjoy the ultimate creative party experience.
All kids will learn how to create paintings from a professional instructor.
"Join us for the Oluyole Expo 2023 and be part of a celebration that transcends boundaries. For vendor and participation registration, sponsorship, and other information, people could visit www.oluyoleexpo.com," DJ Semight enthused.