Sports
Ihedioha flags off Imo sports festival
.As torch tour commences across 27 LGAs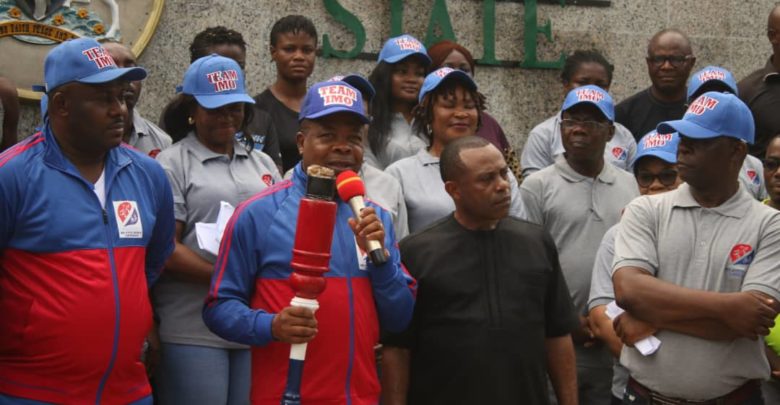 BY DESMOND EKWUEME
The 13th Imo State Sports Festival is underway as His Excellency Rt Hon Emeka Ihedioha (CON) lights the Unity Torch inside the Douglas House, Owerri Monday morning.
The Torch is already on tour of the 27 LGAs across the state with the Chairmen of the Interim Management Committees standing by to receive it.
According to the Executive Chairman of Imo Sports Commission, Chief Fan Ndubuoke, a famous and accomplished athlete or sports personality from each of the LGAs is expected to receive the Unity Torch from his or her Local Government boss before the Torch moves to the next LGA.
"Our plan is to sensitise Imolites and create awareness for the Festival. We want the people to be part of the whole exercise. The exercise of rebuilding Imo through sports. We want them to feel the impact of His Excellency's passion for sports and it's development", Ndubuoke stated.
The Sports boss further hinted that, "The Torch Tour has been scheduled in phases. It will run from Monday to Friday across the Local Government Councils which have been zoned based on their proximity and easy access to all Imolites".
The Sports Festival kicks off on the 5th and will run till 17th of December. It is to enable Imo Sports Commission select athletes for the forthcoming Edo 2020 National Sports Festival (NSF). Gov. Ihedioha has made it clear that Imo will attend the NSF in style which will be a clear departure from the past when they merely attend just for the fun of it.
Ihedioha is using sports as a key force and factor in his Rebuild Imo project which has seen him award contracts for the renovation and rehabilitation of Dan Anyiam Stadium, Grasshoppers International Handball Stadium, Old Township Stadium and Indoor Sports Hall. He has also awarded contract for a sports complex behind Dan Anyiam Stadium which will house a state-of-the-art gym already on the sea from Holland, an indoor basketball hall and a doping centre.
Just last Thursday, Ihedioha through Imo Sports Commission organised Imo Sports Summit which has set the tone for a sports policy for the state and Nigeria at large. The Summit was attended by top sports personalities like Dr. Amos Adamu, Alhaji Ibrahim Galadima, Prof Ken Anugweje, Prof Emmanuel Ojeme, Mike Iteamuagbor, ACP Chioma Ajunwa, Dr Kweku Tandoh, Dr. Ademola Are, Dr Mitchel Obi, Chief Dan Ngerem and Dr. Ndi Okereke Onyuike among others.