Politics
Imo 2023 Gov. Election: Ohakim give reasons for supporting Uzodimma's re-election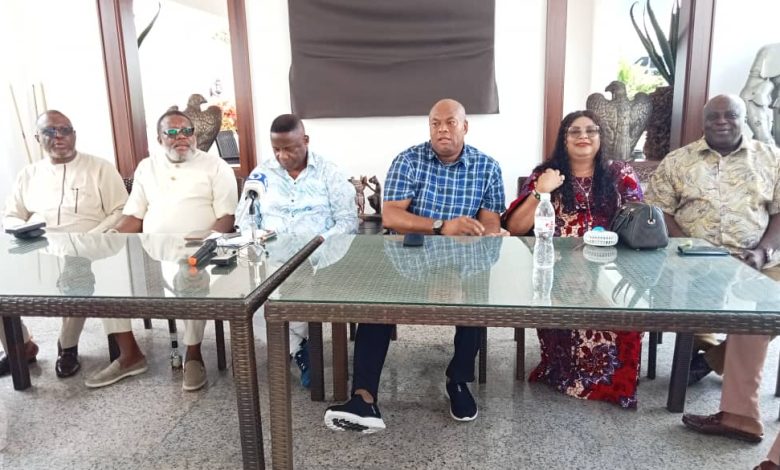 Photo: Cross section of His Excellency, Chief Ikedi Ohakim, political allies during the briefing.
By Everest Ezihe, Owerri
Former Governor of Imo State, Chief
Ikedi Ohakim, has proffered reasons why he's encouraging Imo State electorates to vote for incumbent Governor, Hope Uzodimma of All Progressive Congress, APC for second tenure in the forthcoming off season Gubernatorial election scheduled to hold on Saturday 11th November, 2023.
Ohakim who ruled Imo State between 2003 – 2007 under the political platform of People's Democratic Party, (PDP) said this on Tuesday at his Owerri residence while addressing selected media executives before some of his loyalists in government and leaders in the ruling political party.
The former Governor made his stand known on four critical areas; that bordered on security, youth restiveness, re-election of Governor Uzodimma and Imo charter of equity in a 9 paged well worded document, written and endorsed by him, titled, Imo Charter of Equity And Uzodimma's Re-election Bid : An Open Letter To My Imo Brethren.
According to him, "the reason for this letter is that we have again begun to witness dangerous political maneuverings, lies and destructive propaganda in the current political season.
I have thought over this development and the question that comes to my mind is: can't we learn from history? It's this question that I want to raise before you,dear brethren, so that together we can look for an answer" he pleaded.
Ochinanwata as he is popularly known and called observed that Uzodimma is seeking re-election for second term, which he said, is his constitutional entitlement , but however there are also other bonafide indigenes of the State who are running for the office and are similarly constitutionally entitled to do so and, of course, nobody can ask any of them not to pursue their ambition.
According to the former Governor, " however, giving the current political cum socioeconomic situation in the country, Imo State is not in the best stand of leadership change. Apart from the fact that the governor has performed quite creditably well in piloting the affairs of the State ; especially in the area of infrastructural developments in his first tenure, he has this striking connection with the federal authorities that has yielded good dividends for the state and its people.
" We can, therefore, not afford to decouple that chain-link now by bringing in a new leadership arrangement in the state.
Needless to say, the existing cordial relationship between the State and the Federal Government can best, if not only be sustained through the current administration in the state.
Any other thing is to force us as a people, to start all over again and we can ill afford that. Another regime disruption at this point in time will surely not be in the interest of our people and will have more disadvantages than advantages.
" Has Governor Uzodimma gotten everything right in his first term ? The answer is no, but he has crossed the learning curve and making incremental progress out of the current political and economic situation in the country.
I know the key governorship candidates for Imo Eleven – Eleven. They are all my political associates and I know they are capable but we should, as a people, consolidate on our collective efforts and experience of the last three and half years" he advised.
Ohakim further pointed out that, " I am making this intervention because I believe that we, as a people, should take advantage of the past. Never again should we allow any individual or group of individuals to cut short our collective dream in pursuit of their self-serving interests.
" I have looked at the entire gamut of issues and challenges confronting us and I have come to the inescapable conclusion, that Uzodimma is our best for Imo Eleven – Eleven election, and that is why am solidly supporting him in this bid.
While am not asking any body not to run, the plain truth is that Imo would be better off if Uzodimma is re – elected, and the Charter of Equity , which has remained elusive, will then take its pride of place in our collective quest for a better Imo State " he assured.
The elder statesman also advised Governor Uzodimma on the need to improve on intangible things that anchors on good governance and restoration of confidence in government such as reviewing some contractual obligations to the people by the State Government.
He noted that majority of the people who executed contracts for the state government before the arrival of Uzodimma's Shared Prosperity administration were yet to be paid, even as most of them borrowed money to execute the contracts and their personal properties have been confiscated by the banks for defaulting.
Ohakim passionately appealed to Governor Uzodimma on the need to commence the implementation of the Government White Papers on the various inquiries conducted on behalf of the state government stressing that 'foot dragging' heightens all kinds of speculations and rumours.
The former Governor finally advised the incumbent Governor on the need to conduct local government elections in the first quarter of his second term when elected, that's, the first quarter of 2024.
Among his political allies in government that witnessed the press briefing are; Chief Ralph Nwosu, Hon. Macdonald Ebere, Dr. Love Inih, Sir Okey Anukwem, Commissioner for Special Duties, and Chief Simeon Ebegbulem.
Others include Barr. Willie Amadi, Prof. Cona Anosike, Barr. Jerry Egemba, Hon. Abed Anyadike, Dr. Berneth Uwakem, Dr. Ethelbert Okere and Dr. Ezechi Chukwu, who moderated the briefing.