News
Imo govt to partner Polymer Institute of Nigeria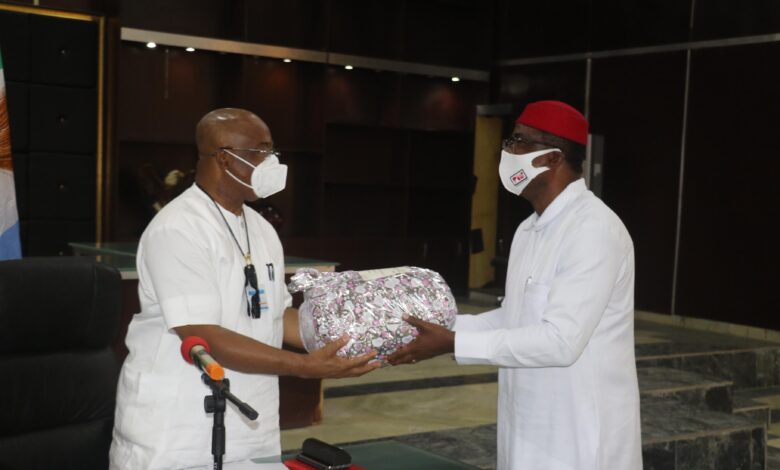 Photo: Governor Hope Uzodimma of Imo State (left) receives a bag of nose mask from Engr. Dr Innocent Akunne when members of the National Polymer Institute of Nigeria paid a courtesy visit to the Governor at the Sam Mbakwe Exco Chambers, Government House, Owerri.
The Government of Imo State is prepared to partner with Polymer Institute of Nigeria to shore up job creation processes in the state and ultimately, bring prosperity to Imo people in line with Governor Hope Uzodimma's agenda.
The government is keen on taking advantage of the Institute's readiness to make waste management a source of economic resources for the state and through the teaching of Polymer Technology as a course of study at the Imo State Polytechnic Umuagwo Ohaji/Egbema LGA.
Governor Hope Uzodimma who addressed a high powered delegation from the Polymer Institute of Nigeria who paid a courtesy call on him at the Government House Owerri Imo State, Monday, said he is prepared to partner with them.
He commended them for pushing through the Chartered Polymer Institute of Nigeria bill which is awaiting the presidential assent and promised to work with them so long as it will benefit Imo people.
The Governor directed the Office of the Deputy Governor to work with the group on how to maximize the opportunity at the Imo Poly by including Polymer Technology in the curriculum of the School.
The governor also directed the group to liaise with the Ministry of Environment in the State on issues and programmes concerning waste management.
In their address read by the National President, Prof. Paul Mamza, he said that they are in Imo State to see how they could establish a partnership with the purposeful leadership of the Governor to tackle unemployment through self employment strategy.
They informed that the Institute has developed a far reaching and elaborate proposal on the utilization of local raw materials for commercially viable products that can boost the economy of the State like: in the production of foams, paints, adhesives, pigments, fibre-reinforced polymers, among others.
The group told the Governor and the audience that if the partnership pulls through it will be their responsibility to make Imo State one of the cleanest States in Nigeria by getting rid of waste and making them useful for commercial purposes. They equally expressed their intention to help the Imo State Government in developing a sound curriculum for Polymer Courses in the State Polytechnic.
Highlight of the visit was the presentation of 200 pieces of locally produced and branded face mask by the Polymer Institute of Nigeria to the Governor by Engr. (Dr.) Innocent Akuvue, the Chairman Board of Directors Polymer Institute of Nigeria, as their humble contribution towards the fight against Covid-19 in Imo State.
Present at the visit were the Deputy Governor of Imo State, Prof. Placid Njoku, the Secretary to the State Government, Chief Cosmas Iwu, the Chief of Staff, Barr. Nnamdi Anyiehie and some members of the Expanded Exco.