Feature
Imo State: Armchair analysts on the prowl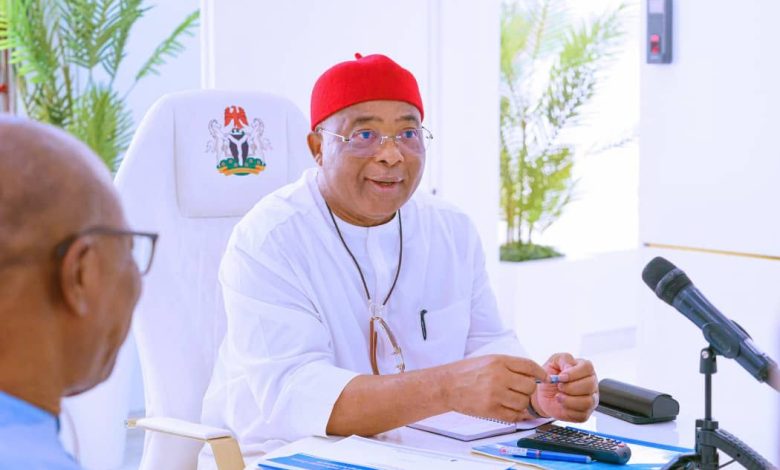 By Oguwike Nwachuku
On Sunday, September 24, Governor Hope Uzodimma paid a surprise visit to the Owerri Office Complex of Hot 99.5FM Radio Station. He was accompanied on the visit by the Founder of the Radio Station, Senator Chris Anyanwu, Senator Osita Izunaso (Imo West) and other top government officials.
As short as that visit was, Sen. Anyanwu demonstrated mastery of the industry she proved to be a lioness for years before delving into politics, getting her personnel to take advantage of the august visitor's presence to market their product and at the same time, educate, entertain and inform the public in line with the ethics of the journalism profession.
Sen. Anyanwu shows what it means to be a proper, trained journalist.
Given what we saw at the Hot 99.5 FM Complex one did not need any further explanation as to why Sen. Anayanwu remains a media Amazon. Her Office complex is a reflection of her personal industry, perseverance, commitment, love for profession et al. It shows her loyalty to the ethics of the profession as well.
Like Sen. Anyanwu, other female media Amazons too numerous to mention from the South East, such as the Publisher of the  Source magazine, Dame Comfort Obi, the former Editor of THISDAY and Managing Director of Arise News, Ms. Ijeoma Nwogwugwu have also paid their dues and will always be counted whenever it matters. My dear wife, Mrs. Chika Amanze- Nwachuku also an Editor will tell whoever bothers to listen that the rules of journalism practice remain sacrosanct.
Not long ago, I did an intervention in what I called "Flight by night columnists." The intention of the piece was to draw the attention of my respected colleagues on the need to abide by the dos and don'ts of the profession we are irrevocably committed to practicing in the interest of the reading and listening, watching public.
Like the legal profession that thrives on hard facts and evidence, the media profession is worthless when it is devoid of balance based, also on available facts to substantiate any claim. That is why the mantra, "if you are in doubt, you leave out" remains a guiding principle for all media practitioners.
Today, I do not know whether those who claim to be informing, educating, entertaining the public, either as columnists, analysts, reporters and more have bothered to stay on the rules of the industry.
Quite unfortunately, a good number of them have created more problems for the system and those that look up to them for guidance with their views or analysis, either on the pages of newspapers, on television and radio stations.
Before now, the newspapers, televisions and radios remained the tools for reliable information for members of the public. There used to be no controversy about their benefits to those who rely on them for education, information and entertainment. One will therefore not be wrong to say that the too many innovations that have gone into today's media industry have brought about dose of inefficiency on the part of both the practitioners and their guests, such that no one is checking the other. It is even worse in the broadcast industry – television and radio – where so-called analysts do so with so much ignorance and arrogance.
Watching and listening to an Arise News analyst who goes by the name, Dr. Constance Ikokwu, on a programme anchored by Charles Aniagolu on Monday, I could not but weep for the society.
My findings show that Ikokwu has operated as a trained journalist for some time now. She was once the Washington DC Correspondent of THISDAY, former Deputy Editor, former Abuja Bureau Chief and also a former Media Adviser to a former Minister of Trade and Industry during the administration of former President Goodluck Jonathan. To say she is in a position to analyse issues properly, not analyzing them from where she appears, is to say the least.
But on the Monday programme in question, Ikokwu threw professionalism to the dogs. She spoke with such hatred and venom and with the confidence of someone engaged to scandalise, blackmail and diminish the value of the Governor of Imo State, Sen. Hope Uzodimma who is also the All Progressives Congress (APC) governorship candidate in the November 11, 2023 election.
Unfortunately for Ikokwu, she succeeded in exposing her personal human frailties driven largely by emotion. She brought to the fore her little regard for painstaking approach on investigation over matters of public interest and generally, lack of professionalism. Her persistent reference to "I was told seven local government areas are uninhabitable in Imo State," "I was told Imo State is almost like Somalia," among other "I was told" references, was as repulsive and contemptuous as her not seeing anything good in Imo State and the Governor.
But that is not all. I am sure I was not the only one who heard Ikokwu say she does not know who the Chairman of the South East Governor's Forum is. Again, I leave you to your imagination about the competence or otherwise of this "professional" analyst on Arise News.
The question is: What manner of analyst would rely on hearsay, claims, insinuations to draw inference on a matter as critical as the issue of (in)security Ikokwu was invited to discuss on television? If she was not analysing the subject in question as an interested party, would Ikokwu have relied on third party information alone to do her work as a trained journalist?
As an Editor, would she pass a script written by her reporter without confirmation or demanding for proper investigation? Would she part the reporter on the back for filing a report that lacks proper investigation as demanded by the ethics of the profession? What an armchair analyst has she constituted herself into? It is even more annoying that she does so with such unbridled arrogance reminiscent of a potentate consulted to act out a demagoguery script.
The truth is that because Ikokwu was asked to make Governor Hope Uzodimma the kernel of her discussion on television, the name of the governor became too heavy in her mouth to pronounce, hence she claimed ignorance of who the Chairman of the South East Governor's Forum is. Mind you, Governor Uzodimma has been in that position for nearly two months now and has held no fewer than three keys meetings with his brother governors ever since assuming the position.
For the avoidance of doubt, the two days South East Economic and Security Summit slated for Owerri on September 28 and 29 which has been given wide publicity remains the first major event to be held by the South East governors under the leadership of Governor Uzodimma. Yet, Ikokwu who claims to be a ranking journalist and analyst pretends not to know the man behind all that.
Now that she has known, we expect her to be more responsible in her analysis going forward; more professional, more painstaking and humble in asking questions about what she does not know, and importantly, more objective in her analysis of issues of societal significance.
As far as Ikokwu and her conspirators are concerned, Sen. Uzodimma must not return as Governor of Imo State after November 11. Also the Governor's Party, the APC, should not be given the opportunity to continue in office. But she is living in denial with her gang of sponsors who stay in Lagos and Abuja and see nothing good in Imo. I wish they can board the next available vehicle to Owerri to see things themselves, interact with the people and then make informed judgment about the government of Governor Uzodimma and his chances or otherwise of getting reelected.
In case Ikokwu does not know, we have it on good authority that her source of the hearsay she relies so much on to talk gibberish about Governor Uzodimma and Imo State is from the camps of characters like Sen. Athan Achonu and Sen. Sam Anyanwu, the Labour Party and Peoples Democratic Party governorship candidates respectively, both of who have been working hard to sustain the insecurity in Imo because it pays them more if that happens.
Insecurity in Imo is not exclusive to the State. The entire Nigerian Nation is challenged due to it and the government is doing her utmost best to correct all the anomalies posed by insecurity.
Ikokwu ought to have known how to couch her languages instead of speaking in discomforting tongues, in manners that promote or even embolden the perpetrators of insecurity. As an analyst, she ought to be more interested in solutions to problems rather than creating more problems for the system, using the platform open to her.
It is unfortunate that in Nigeria today, anyone who can couple tenses together in spoken English gets venerated to the level of a celestial being and then assumes they have the license to yarn anything to the listening or watching audience because of assess to the television or radio.
Let me remind Ikokwu and her sponsors that Governor Uzodimma is the candidate to beat in the coming election. Achonu and Anyanwu know that too well regardless of the noise they go about making. Governor Uzodimma has done marvelously well to deserve a reelection and Imo people will do so convincingly.
The governor's intervention in road infrastructure, health, education, youth empowerment/development, to name but a few are there for all to see. His economic policies like the dredging of the Oguta/Orashi River to the Atlantic Ocean point the way to the socio-economic well being of Imo State and beyond, and discerning Imo people are taking note. What you will tell the blind is that there is no oil in the soup, but not salt or pepper. In Imo, the blind are even part of the celebration from the things Governor Uzodimma has done because they can feel it from the joy that oozes out from those around them.
.Nwachuku, Chief Press Secretary/Media Adviser to Governor writes from Owerri